28 March 2023, Amritapuri Ashram
Amma addressed and blessed 40 men and 60 women via video call who were to be initiated into Sannyasa at Swami Ramdev's ashram, Patanjali Yogapeeth in Haridwar. The initiation is set to take place on Ramnavami, the day commemorating the birth of Lord Rama.
Speaking few words in Hindi, Amma expressed her happiness at being invited to bless the new ascetics, to which Baba Ramdev responded by saying, "All these girls and boys are your children, Amma, so please bless them to be sannyasins. They are very happy to renounce the world."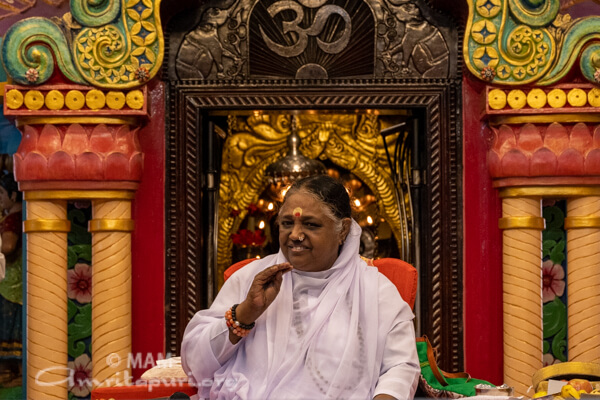 Amma shared her joy at seeing so many men and women taking vows of renunciation and emphasized the importance of following their Guru's words and surrendering. She said, "Spiritual life begins and ends in compassion. Continue your sadhana and seva by following Swamiji's instructions and guidance." She also prayed for the participants to have the strength to move forward on the path of spirituality and to have God's grace.
Amma encouraged them to live according to spiritual principles and to ensure that no one raises a finger against their Dharma due to their actions. Babaji has already made a stage, you just will have to dance on it, Amma reminded them.
Baba Ramdev expressed his gratitude for Amma's blessings, referring to her as Mother Bhagavati – Parashakti, and requested her to visit Haridwar to bless the lakhs of children in need of her guidance.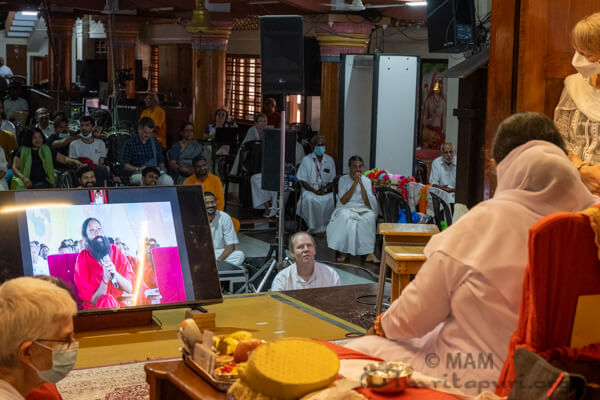 Baba Ramdev also promised to visit Amritapuri with the newly initiated Sannyasins, and Amma sang the bhajan "Chod de manse dukh ki chinta" upon his request. Baba Ramdev and the brahmacharis chanted a slokas from the Bhagavad Gita, praying to Amma to help them inculcate and practice divine qualities (daivi sampads).
Amma concluded by saying, "May everyone awaken from Dhritarashtra's state to Sanjaya's state – who was able to see and hear everything despite being far away. May you always listen to the divine voice. Divya drishti means to see God everywhere in everything, so may everyone attain this vision."
The session concluded with the promise from Baba Ramdev that they will live in accordance with Amma's grace.
-Kannadi