18 March 2022 – Amritapuri Ashram
Amma celebrated Holi, thefestival of colors in the Main Hall of the Ashram.
As preparations were being made for satsang and bhajans, Ashram children started gathering in their usual spots in front of the stage. However, instead of focusing on setting up their tablas and harmoniums, they were gleefully showing off their colorful Holi water pistols which were filled with water in anticipation of the coming celebration.
After the daily evening bhajans the fun began! Amma started throwing Colored powder all around. It was flying everywhere. Amma also started throwing small water balloons at the crowd. Whoops of joy filled the hall as balloon after balloon burst and showered devotees with color. Devotees filled up long squirt guns with colored water which Amma then took and shot streams through the air – water landing all over the place – to more shouts of joy.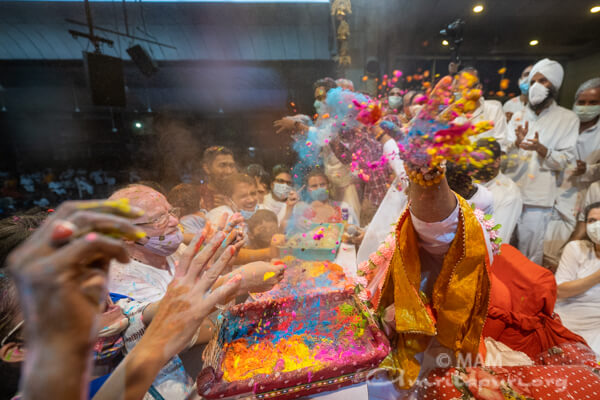 Suddenly, the traditional Baduga song came on the speakers and everyone started dancing as more streams of water, colored powder and balloons continued to fly. When the balloons and water were exhausted, Amma stood up and began to dance! Her sari covered in bright green and orange, Amma brought her arms up in the air and gracefully moved in synch with the bhajan. Everyone joined in and the hall was filled with bliss.
Afterwards, Amma began singing 'Ye Hai Vraj Ki Holi'
"Colorful Holi has come
Krishna's troupe has come out!
Radha and the whole of Vraj are playing today.
Just after Amma left the stage, a youthful band of ashramites gathered and began chasing each other with fists filled with colored powder. For more than an hour, laughter and blissful yelps resonated through the hall.
Indeed, the whole of Vraj played tonight in Amritapuri.
-Kannadi