14 April 2020, Amritapuri – Excerpts from Amma's Vishu message
Succumbing to the coronavirus, thousands have died all over the world. And worldwide, millions have been infected. At this time, let us pray for the peace of the departed souls and for the solace of their grieving families. Let us pray with our hearts and work with our hands.
You may wonder, what is the relevance of a festival like Vishu at such a sad time? True, this is not the time for a celebration. However, Amma feels that the message of Vishu still remains very relevant. Vishu is a symbol of the deep love and bond between man and Nature. Vishu is also a clarion call for man to end his transgressions against Nature and other creatures, which are products of his indiscriminate and selfish ways. This is a call that really needs to be heeded.
Today, we have descended to where we view the world as a business product—not as one family. From such a perspective, our expectations rise, striving to achieve infinite growth in all areas. However, such growth may not always be beneficial to us. Cancer is caused by indiscriminate growth of human cells, and if untreated, this ultimately leads to the person's death. Similarly, any growth that is detrimental to the growth of society as a whole can never be healthy growth. Ultimately, such growth only paves the way for the destruction of the individual as well as society. Our current situation is a reminder that in our growth and development, we should be careful to always ensure that Nature is protected.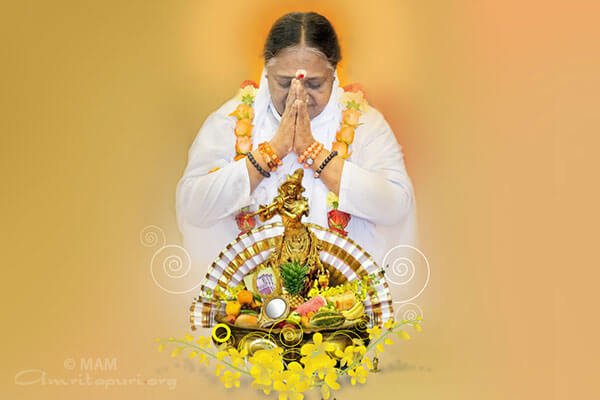 In life as well, we only have two options. The first is to put in the effort. The second is to accept. We cannot change everything in the world. Many things are beyond our control. Arjuna, the tireless warrior who won all wars everywhere, had to see the death of his own son. Panchali, who was able to fulfil her vow of killing Dushasana, was unable to save her own sons from death. This is why the only practical way is to face the situation with the attitude of acceptance.
May this Vishu encourage humanity to reclaim a life where God comes first and compassion towards all living creatures is rekindled. May all my children be blessed with grace.