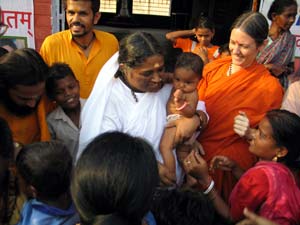 Friday, 26 March 2004 —Durgapur, West Bengal – Bharata Yatra
Driving out of Durgapur, Amma made two "house calls"—a slow drive-by of the new Durgapur Amritakuteeram housing colony currently under construction, and a long walk through the first one, which has been home to 108 families for one year now.
As Amma moved around the colony, She picked up babies, handed out prasad and gave people quick, loving embraces. The beneficiaries were very excited to have this special visit from Amma, the one who'd removed them from the roofless squalor in which they had only recently lived.
The new Durgapur colony is coming up through a cooperative effort between the Mata Amritanandamayi Math and the local government. The initial phase of the colony comprises 238 houses, with the possibility of a thousand in total coming in the near future. Like all Amritakuteeram houses, the Durgapur homes are given away free to destitute homeless and slum-dwellers.
—Sakshi