Bharata Yatra 2004
25 March 2004 — Durgapur, West Bengal
After a long drive from Varanasi, Amma and Her children reached Durgapur, West Bengal just after sunrise on the morning of March 25th. The program was held at the industrial city's Amrita Vidyalayam School, which has been in operation for just under a year now.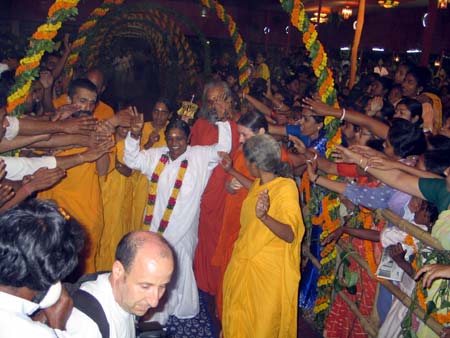 By the time Amma took the dais at 6:30 p.m., more than 10,000 people had come to listen to Her satsang and bhajans and to have Her darshan.
The night's chief guest was the Honourable Justice Shri. Tapan Sen of the Jharkhand High Court. He gave a touching speech, explaining how important Amma has become in his life, and presented pension certificates to 15 women, symbolic of the 500 destitute widows the Mata Amritanandamayi Math is now providing to the area's poor as part of the Amrita Nidhi program.
Amma sang almost all of Her bhajans in the local language, including version of "Ma Jagadambe" and "Ishwari Jagadeeshwari," thrilling Her Bengali-speaking children.
Upon the conclusion of the bhajans, an impressive display of fireworks were set off, burning in the form of two fruit-bearing trees.
Durgapur is a town built up around a steel plant. It is 40 minutes south of the birthplace of Jayadev, the poet who composed the Gita Govinda, and is also near Shantiniketan, the university founded by India's most famous poet, Rabindranath Tagore.
—Sakshi