Bharata Yatra 2004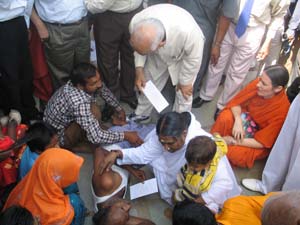 Monday, 15 March 2004 — Raj Bhavan, Jaipur, Rajasthan
There are things that should not happen in this world, but they do: a child set on fire, a girl thrown down a well. Are there words to comfort someone who has survived such a thing? What do you say to a seven-year-old boy who now has no face?
When such people come to Amma, most often She does not speak. She cries. She cries their pain. She cries the pain of their families. She cries the pain wrought by the horror this world can hold.
This is what happened as Amma gave what comfort She could to the people gathered at the Governor of Rajasthan's home in Jaipur. With money drawn from the Governor's Fund, His Excellency Shri. Madanlal Khurana gives 250,000 rupees every week to Rajasthan's poorest of the poor—some of who have fallen victim to unspeakable abuse. Monday, he invited Amma to Rajasthan's Raj Bhavan to help him distribute checks on Her way out of Jaipur. After all, he said to Amma, "You showed me the path."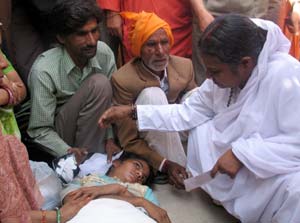 No one in Amma's small entourage really knew what to expect, but when Amma arrived at the mansion, some 800 people were waiting—with papers in hand—ready to plead their cases for relief. Some were standing, some were sitting in wheelchairs, several were lying on their sides.
One such person unable to sit or stand was a girl of about 18 named Ankita. Except for a space left open for her to pass urine, her entire body below her chest was in a cast. When her new husband's family realised her parents were unable to pay the stipulated dowry, they threw her down a well and she broke her legs and her back. As Amma knelt by the girl's side and was told her story, the tears came—to the girl, to the girl's father, to her brother and to Amma. Amma touched the girl's arms gently. She stoked her hair. With wet eyes, the girl did what she could to lift her arms in pranam.
The case has not yet been confirmed. But Amma told the governor to get Her all the girl's papers, all her medical records. Amma said She wants the girl brought to AIMS, Her hospital in Cochin, for free treatment.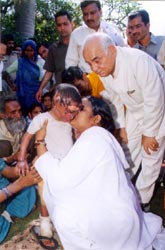 Next was the seven-year-old boy, Adarsh, who caught fire when someone torched his parent's hut in a property dispute. He has no eyes anymore. No ears. Just a button-size hole where his nose used to be. Amma tried to comfort him as much as She could, but his pink body was really too tender to caress. With incredible care, She lifted him, kissed the side of that featureless face and set him down again. With tears in her eyes, Amma said, "When someone dies, Amma does not worry so much—it's just the body that is gone, the Atman never dies. But when they have to live like this—in such pain and suffering—it is almost impossible for Amma to bear."
As Amma spoke with the people assembled at the Governor's mansion, the Governor repeatedly told Her how it was Amma who'd inspired him to begin serving the poor in this way. His Excellency first met Amma in the mid-1990s in Delhi, when he was the state's Chief Minister, and has been a devotee ever since. As they spoke, Amma told him She wants to help anyway She can—be it through the building of free Amritakuteeram houses or through the allotment of more free Amritanidhi pensions. When it was time for Amma to get back into Her camper for the drive to Delhi, the Governor prayed to Her, saying for a third time, "Amma it was You who showed me the path. Please grant me the strength and courage to continue."
—Sakshi