29-30 January, Chennai, Tamil Nadu – Bharat Yatra 2020
Amma held two days of programs at her Ashram in Virugambakkam, Chennai.
Padmasri recepient Krishnammal Jagannathan; TG Venkatesh, MP Rajya Sabha; 3-time Urvashi award recipient film actress Sharada; Mohiniyattom dancer Kalai Mamani Gopika Varma and many dignitaries were there to garland Amma and welcome her to the program.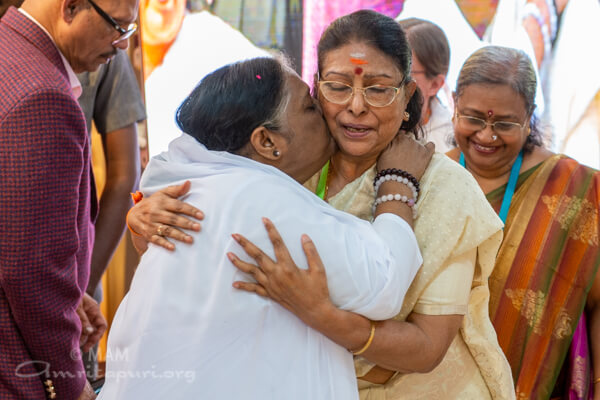 Speaking on the occasion on Amma's visit, TG Venkatesh said, "18 years ago, I had not met [Amma at that time]. I read Amma's books and learned to serve people. I am giving all my 3000 employees an allowance to not smoke or drink. Each employee gets 1500 rupees – which comes to about 45 lahks. They should not smoke or drink. Though the money may be small, it is given to the wife. If they smoke, the money will not be given to the wife and she will then beat that fellow," he added jokingly.
"Like that, whatever she has written, whatever she has said, 0.001 percentage I am following. See, Amma's blessings will come to us when we adopt some service. When we are not doing service to the society, Amma's blessings will not come to us" said Rajya Sabha MP, TG Venkatesh.
Famous Malayalam film actress Sharada said, "Today I became a real "dukha putri*" – I am not able to control my tears of happiness, emotion. How many people get this kind of luck? Tell me. We dont know what will happen next minute. But getting such moments is the real luck. Amma gave this to me. I saw Amma longtime back, 30 years before. But todays chance, I cannot forget till my death."
During the festival, Amma launched WEMoch, a new project by AYUDH Chennai. The project aims to create awareness on substance abuse among students in schools and colleges across India.
Amma also distributed sarees to AmritaSREE members.
"If we could only begin to consider needs of others before our own, we would be able to make earth a better place. We need to reduce the weight of our ego. Develop humility and remove the misconception that life is only about snatching and taking love. Instead, try to find the source of love within and offer it to all those around us," said Amma, addressing the gathered devotees.
Many musicians came and performed while Amma gave darshan. Brothers Ganeshan & Kumareshan; Kalaimamani M Lalita and Nandini sisters and Nadayogi VV Subramaniyan and VVS Murari (father and son) entertained Amma and the crowd with their wonderful violin duet performance. Renowned singer Sri Ram Parthasarathy also sang Carnatic music.
Students of Amrita Institutions presented different cultural progarams as well as bhajans & chants.
-Dass
---
* Sharada is known as 'dukha putri – grief daughter' of Malayalam cinema, since she was mostly acting the crying scens.