24 December 2019
As is the custom in Amritapuri, Christmas Eve saw a tableau of offerings in the form of dance, song and drama from Amma's children who have come from all parts of the globe to spend their Christmas holidays with Amma.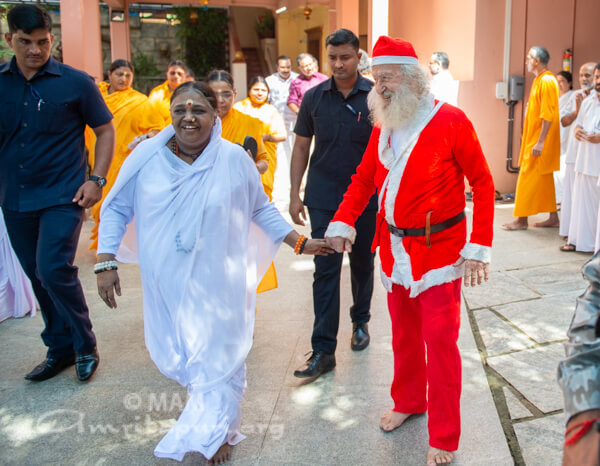 This year's performances showcased the plethora of cultural traditions from which Amma's children come, and demonstrated once again that Amma's love transcends all boundaries as a universal language.
The audience was treated first to a shadow puppet play about the birth of Christ and the arrival of the three wise men, who immediately recognized Jesus as a divine King. The crowd was regaled with Christmas carols, sung with beautiful harmonies and melodies.
All were delighted by a traditional Spanish Flamenco dance, and by a joyous salsa dance performance from Amma's Latin American children, to a song called "Festival." The meaning of the song is:
Do not cry
understand life as a festival
live your life singing and dancing
and with that attitude you will be able to accomplish everything.
Indian classical and semi-classical dances evoked the sweetness of devotion and the unparalleled beauty of the Divine.
A group of Amma's international daughters performed a spellbinding dance about the Divine Mother's love for the devotee, with the message, "Even if we do not always see her, Amma is always with us."
Dec. 24th was not only Christmas Eve, it was also one of the 8 nights of Chanukah, a Jewish holiday known as "The festival of light." Traditionally celebrated for 8 nights, one candle is lit each evening and placed on a menorah (hanukia), in gratitude for God's grace in our lives. In their offering, Amma's Jewish children built a human menorah as a prayerful offering of gratitude. At the close of the dance, 8 candles were lit, each with a prayer. Each candle was lit with a prayer: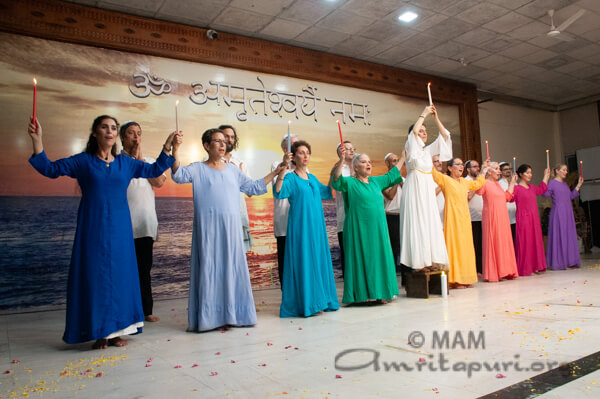 For peace on earth
For harmony among all
To restore nature's balance
For service to humanity
That truth may prevail
For knowledge to dawn
For our hearts to blossom
To spread Amma's light to all corners of the world
Amma's international children closed the performances with a message for Amma and for all those assembled:
When we celebrate Christmas we are joining the world to reflect for a day on the qualities of love, sacrifice and selfless giving. But as we reflect on it, we can't help but understand that for us, the children of Amma, everyday is Christmas. Everyday is a celebration of being with a master that embraces us in our darkness and helps us to see the light that is our true nature. When we sing "Joy to the world, the Lord has come," we are not singing about a historical moment, but we are giving praise and gratitude for our great fortune of being a part of Amma's story.
After the performances, Amma gave her annual Christmas address. In her remarks, Amma reminded the assembled crowd of the deeper meaning of the Christmas traditions, saying, "Children love Christmas because Santa Claus brings gifts for them. In fact, we can all become Santas. For this, we do not have to give material gifts. A compassionate glance, a few good words, a patient ear and small acts of kindness are actually big gifts we all can give. The world is hungry for such gifts. To start giving these gifts, we don't have to wait for the Christmas season. We can give them always, every day." Amma also reminded everyone of the true goal of this day, and of every day: ""At the very top of the Christmas tree, we place a brightly lit star. Its message is that our life's supreme goal is to seek and attain that bright star: God. In the hustle and bustle of everyday life, we should not forget this truth. It is to remind us of this that spiritual masters incarnate from time to time."
Following her address, Amma led the thousands gathered in a visualization and prayer for world peace, followed by uplifting and joyous bhajans. As the clock struck midnight, the ashram's resident Santa Claus brought trays of chocolate Christmas cake to Amma for blessing, and she served the special Christmas prasad to one and all. It was indeed, to all a good night, filled with joy, contemplation, and prayer – a true holy day.
-Tulasi