12 Dec 2019, Amritapuri, Kerala
In one of the largest ever international university collaborations in India, a Letter of Intent (LoI) was signed today by Amma (the Chancellor of Amrita Vishwa Vidyapeetham) and Dr. Liesl Folks, Provost and Vice President of Academic Affairs, University of Arizona embarking on a multidisciplinary partnership in education and research. The 11-member delegation from the University of Arizona were also present on the occassion.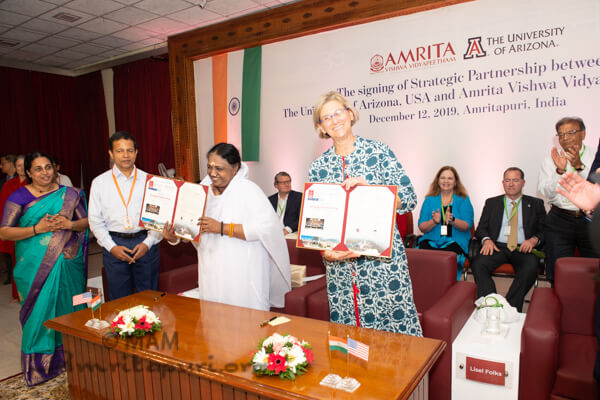 The LoI seeks to initiate dual-degree programs at the bachelor's and master's levels. The key disciplines include Engineering, Biotechnology, Nanotechnology, Social Sciences, Medicine, Public Health, and Agriculture. The program will enhance Amrita as the study-abroad site for the University of Arizona students and vice versa. This will engage more than 200 students annually for a minimum of one semester at the two-partner university.
Dr. Maneesha Sudheer, Dean of International Programs at Amrita said: "These programs will be moulded to achieve the key philosophies of Amrita; (1) Education for Life, (2) Compassion-Driven Research, (3) Global Impact. This provides an opportunity for Indian and International students to experience the value system of India's rich culture"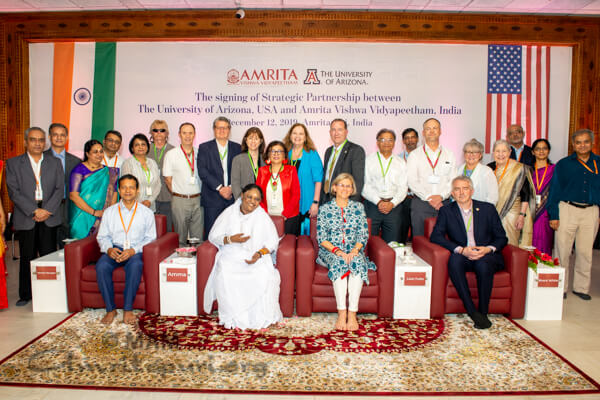 Dr. Lisel Folks aid: "The University of Arizona shares Amrita's commitment to enriching life for all, its dedication to innovation, and its spirit of compassion. We look forward to working together across multiple disciplines to expand human potential and to care for the world around us. I look forward so much to continue in the partnership for many years and deepening and expanding a relationship with Amrita with the sole objective of helping the people around the world through education, research and translation of new technologies, medicines and the ways met with learning and expanding knowledge."
About University of Arizona
The University of Arizona is a top-ranked public, research university. It is ranked 104th in the world by Times Higher Education's 2020 World University Rankings. Arizona is known for advancing frontiers of interdisciplinary scholarship and entrepreneurial partnerships as a member of the Association of American Universities, the 62 leading public and private research universities in the U.S. The University has been a part of every planetary mission with NASA and is the fourth most awarded public university by NASA for research.