22-24 July, Tokyo – Japan Yatra 2019
Ambassador Sanjay Kumar Verma of the Indian Consulate in Japan welcomed Amma to Tokyo. He spoke about the greatness of the Indian culture and values that emphasized the importance of peace, harmony, selfless service and non violence. 'When it comes to humanity, Indian society traditionally believes in Vasudhaiva Kutumbakam – World is a family. Living in peaceful coexistence with fellow human beings and environment is a part of the Indian culture. In Indian context, peace is not only the absence of war. Peace is seen as an eco-system to further prosperity and happiness of mankind.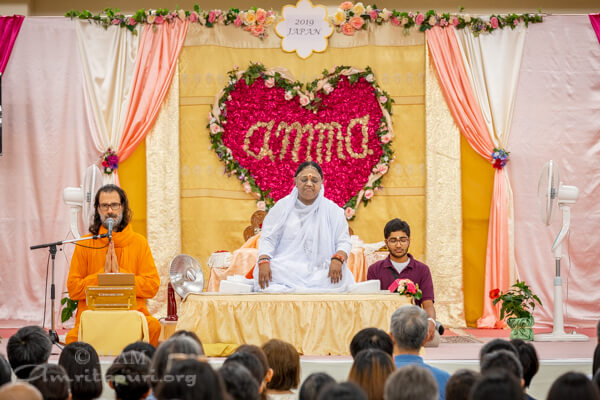 "Today's life is full of different kind of Stresses. We cannot completely remove stress from our lives. Nor we can avoid stressful situations. However, we can cope with it and manage it with effective and intelligent strategies and Spirituality, Yoga including breathing exercises & Meditation are few among them.
He warmly welcomed Amma to Japan and said, "I believe Amma who comes every year to Japan to deliver spiritual talks must be contributing to the quest of our Japanese friends to know the "Truth of Life" as well as to ease out the stresses of life and well as learning the way to maintain "work-life balance".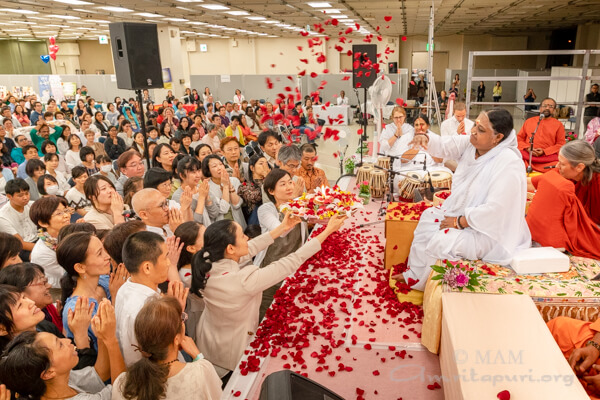 The Japanese people warmly welcomed Amma with traditional Japanese dance and music. On the first day of the three days of programs in Japan, students from ten colleges in Tokyo performed an entertaining traditional dance. These students are also a part of IVUSA who regularly participate in the Housing Project.
It was wonderful to see traditional Indian style bhajans sung by the local Satsang groups with drums, electric guitar, keyboard, pro-custom, saxophone accompanied by young children on chorus. They also sang bhajans in Japanese. They rendered it in Soprano classical music style. It was followed by a graceful Japanese dance.
On all the 3 days Amma gave satsang, darshan and sang bhajans. The last day, the program concluded with a peace prayer and puja for world peace.
With this Amma concluded her 8 week long 11 city Yatra to Amrerica – Canada – Japan and returned to Amritapuri.