April 30th – May 2nd, 2019 – Singapore
Amma arrived in Singapore in the early morning of April 30th, for three days of programs at the Marina Bay Expo & Convention Center.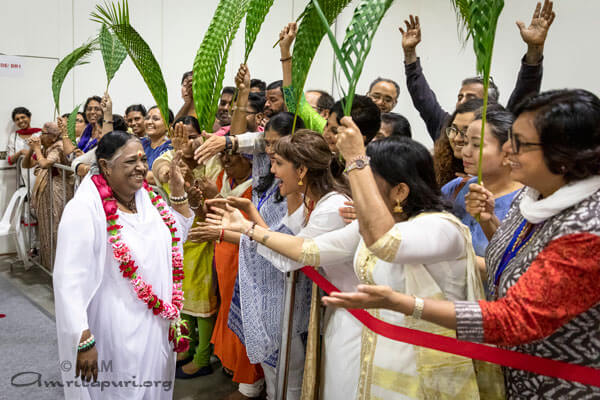 The evening program on the 30th witnessed an unprecedented turnout, reflecting the widest cross section of society ever seen at Amma's programmes in Singapore. Excitement and anticipation pervaded the hall as devotees lined the aisles to receive Amma. Over 50 women gave Amma a 'Green' welcome – joyously waving large palm leaves that were beautifully and intricately woven.
The Chairman of the Amriteswari Society welcomed Amma and the gathered crowd, including members of the Inter-Religious Organisation (IRO) from the Hindu, Zoroastrian, Buddhist, Taoist, Jain, Christian, Muslim, Sikh and Bahai'i faiths.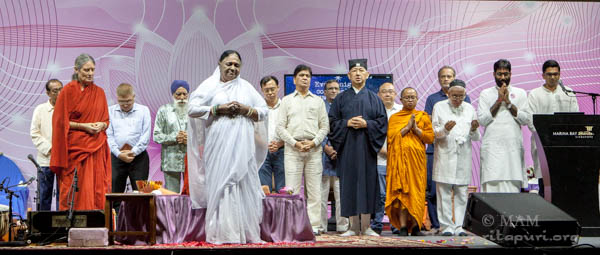 Said the Chairman, "We are eternally grateful to Amma for the privilege of organising her programmes in Singapore for the past 32 years. Indeed, Amma's very first programs outside of India were held here in May 1987. It was an unprecedented, eye–opening and heart warming experience for each and every person present." The Chairman continued by hilighting Amma's simple yet profound influence as a role model for people of diverse ages, and religious and ethnic groups in Singapore. "Along with her message of love and service, Amma has inspired, uplifted, and united people of all nationalities and religions, awakening them to their fundamental oneness in Spirit."
Mr. R. Jayachandran, Singapore's High Commissioner to the Republic of Mauritius and Chairman of the Hindu Endowments Board, also spoke on the numerous outstanding charitable projects undertaken by the Mata Amritanandamayi Math. He emphasised that the sum total of all the initiatives promoted by Amma is simply mind boggling – that Amma defies the limitations in human endeavours.
Out of a desire to honor Amma's emphasis on delivering accessible and quality education to all, the Amriteswari Society's "Amrita Bursary" scheme was launched in 2007. The program gives scholarships to deserving students from various secondary schools in the area. Thirty of the fifty recipients this year – students from Woodlands and Marsiling Secondary Schools – came up on stage to receive their bursaries.
In the next ceremony, representatives from the Society's Bala Kendra, Youth Wing, and Women's Wing received microgreen seeds to signify their foIrmal launch of the "Grow Your Own Microgreens" – a new initiative designed to connect us with Mother Nature and to strive to grow and consume our own microgreen organic foods in our own homes.
With 2019 designated as Singapore's Year Towards Zero Waste, Amma's Singapore Programme undertook conscious measures through various Green Initiatives for sustainable and compassionate living. Steps were taken to reuse and recycle material, as well as to reduce plastic use and food waste. The Programme also saw new initiatives in other areas: "Sponsor the Cost of Food" and "Pay it Forward" schemes ensured that all who wished to partake of the delicious meals being served in the food court were able to afford to do so.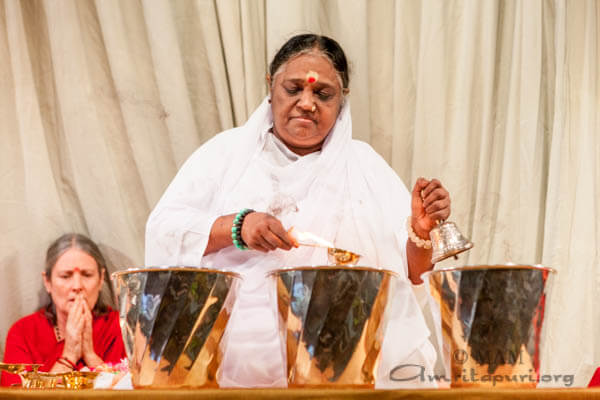 During Amma's Satsang, she spoke about the impact of today's electronic gadgets on society. "Most people live in a virtual world. If we cannot give our family members even a small part of the attention we give our gadgets, then what is the meaning of family? For many people, relationships have become confined to the numbers in the phone. We no longer value seeing each other face to face… When our relationships with the world are defined solely through machines, we pawn our very consciousness to the unconscious machine. We should use machines and love people. We must never allow the hallmark of our society to become 'Use People and Love Machines.'"
After satsang, Amma sang bhajans, and led everyone in a guided meditation session, including a Prayer for World Peace. Amma then began giving darshan.
Members of Bala Kendra, AYUDH, and various music and dance groups presented spiritual, arts and cultural offerings to Amma and the gathered crowd during darshan.
The last evening was the Atma Puja ceremony for World Peace followed by Devi Bhava. Amma lovingly embraced each one of the unending stream of her children until the next morning.
At the end of the three days of programs, reverberant calls of 'Mata Rani Ki Jai' filled the hall as Amma left to depart for India.
-Dass