28 Feb – 01 Mar, Pune Brahmasthanam Festival, Maharashtra – Bharata Yatra 2019
Amma held two days of programs at the Amrita Vidyalayam School in Pune. Thousands came for Amma's darshan and to listen as Amma gave instructions for the Manasa Puja in Hindi and sang bhajans in both Marathi and Hindi.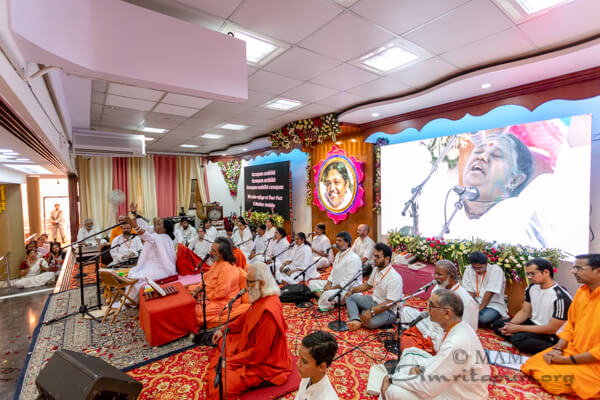 On this happy occasion of Amma's yearly visit, Dr. Anil Shirole, Member of Parliament for the Constituency of Pune, referred to happiness as being the essence of the Ganapati Atharvashirsha, a Vedic Hymn on Ganesha. "Our happiness is in the happiness of the society. That is why we should try to give happiness to others, try to lessen others' suffering. It means whatever is needed by anyone – give that selflessly. If someone is sick, provide medicine. If someone is hungry, give food. If someone is thirsty, provide water. To do all this selflessly is said to be of service to society. I feel Amma would expect all of us to do this. Let us all take inspiration from Amma and serve our society."
Sujit Minchekar, Member of Legislative Assembly of Kolhapur, Maharashtra, who met Amma for the first time, said, "The rejuvenation I felt because of her touch, I cannot describe in words. Amma has come to this world to spread happiness and give message for everyone – be happy."
Shweta Shalini, Advisor to Chief Minister of Maharastra said, "It was an indescribable experience to get a hug from you, Amma. Mother has been given highest position in our culture. Today you have that position in my life. I want to take part of you back with me, so that just like you, I too can do something for my motherland, for the nation and its people. Today I understood that the primary purpose of human life is to give. I feel people like you come to this world just to give."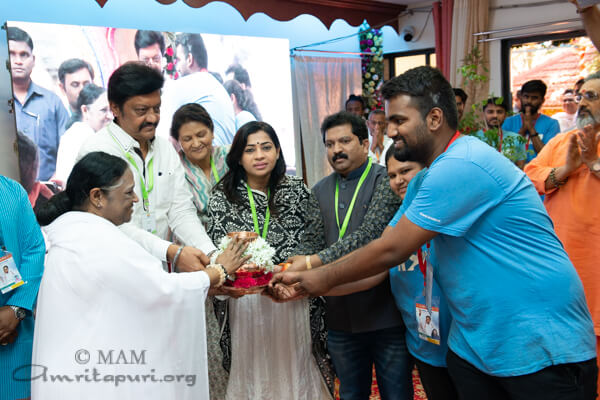 For 2019, AYUDH Pune launched a new project: 'Punarjani – the River Cleanup'. They will adopt a 5-kilometer stretch of the Pavana River, crossing the cities of Pimpri-Chinchwad and Pune. They will clean up the river and shores, install dust bins, make compost out of the green moss, plant trees, paint the walls in the area with awareness quotes, and maintain the whole area for at least one year.
During darshan, Amrita Vidyalayam children presented different cultural programs. Pt. Nandakumar, disciple of Pt Briju Maharaj, offered a Kathak dance for Amma.
Concluding the two days program, Amma left for Mumbai, leaving sweet memories for the Pune devotees to cherish.
---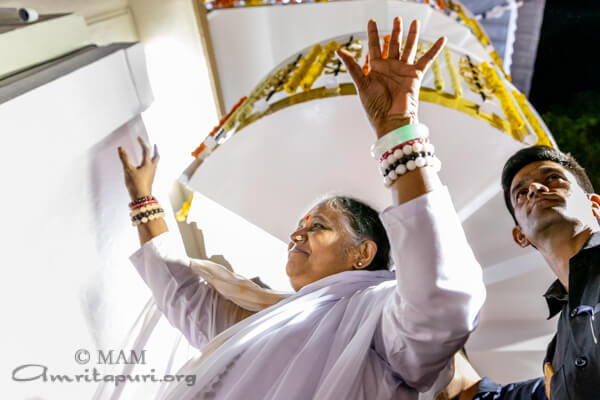 32 years in Pune
Amma has been coming to Pune since 1987. One can only imagine the blessings that are there when a Mathatma has been returning to the same place for so many years. If we look at the growth of the Ashram in Pune over the past 32 years, we can see just a fraction of these blessings. It is incomprehensible in its magnitude.
Amma's first program was held in a small 10×10 meter room in a Krishna temple. Three years later, Amma gave the local group permission to buy half an acre of land and to build a small ashram there. In 1992, Amma concentrated the new Brahmasthanam temple. Five years later, Amma then asked them to start a school, so they bought 2 more acres of land and started building. Today, one sees a thriving Ashram and a school with 3,500 students. Of these, 1200 arrive each morning by bus from all over Pune. The school even has a branch in nearby Nasarapur, Tal. Bhor with an additional 1200 students.
Pune also has a very active AYUDH group that has grown over the years. In 2016, they conducted organic terrace gardening workshops which reached 6000 families in their first year. In 2017, they focused on the education of children in the slums and helped visually impaired people to find jobs.
-Kannadi