19-20 Feb, Mysuru, Karnataka – Bharata Yatra 2019
Amma reached Mysore at 12.00 midnight. Many devotees including members of Amma's youth group – AYUDH, greeted Amma with shouts of "Mata Rani Ki Jai!"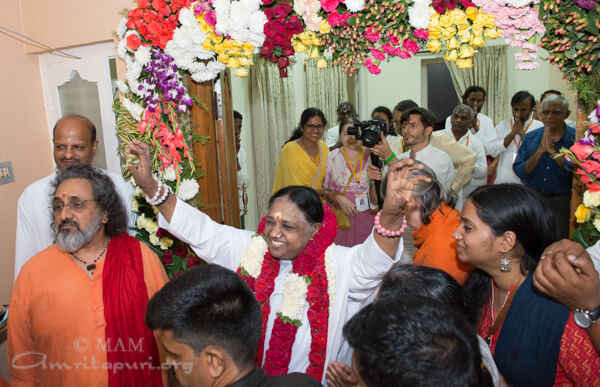 For the evening program, Mayor Pushpalatha Jagannath, Corporator Nirmala Harish, Savitha Suresh, Industrialist Jagannath Shenoy, and others were there on stage to welcome Amma to Mysore.
Mayor Pushpalata Jagannathan said, "It is my great fortune to be a part of today's divine program." She added, "I have learnt that what Amma has been doing selflessly is what a government is supposed to be doing in all areas. Recently, the government has organized a project to have a "thatched-house-less city" in Mysuru. But way back in 1994, Amma had constructed many houses here in Mysore. Amma has made tremendous contributions in all fields, including education. She is the living example of the word 'Amma'. All of us can experience the feeling of Mother in her. Words fail to describe Amma."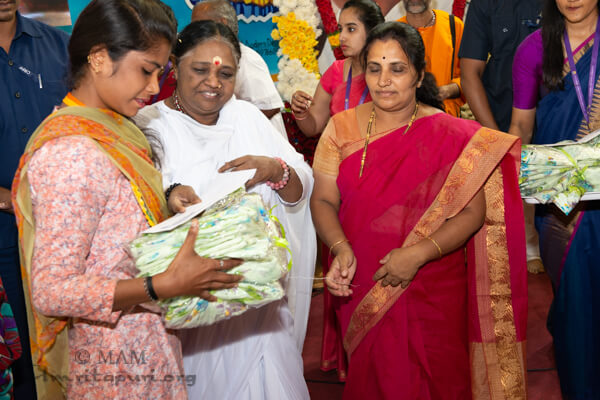 The Corporator Smt. Nirmala Harish also addressed Amma and the crowd. "When I told Amma that it is my great fortune to have Amma's Darshan, Amma replied, 'All of you are my children and I am your mother. There is nothing special about me meeting my children. I am a river of love which flows flawlessly both inwardly and outwardly.' I myself had Goosebumps when I heard this from Amma." Asking for more blessings Smt. Harish said, "It is a great fortune to have Amma's Darshan in Mysuru – especially today being Poornima (full moon day)."
Amma gave away saris to AmritaSree self-help group members. Amma then gave satsang and sang bhajans.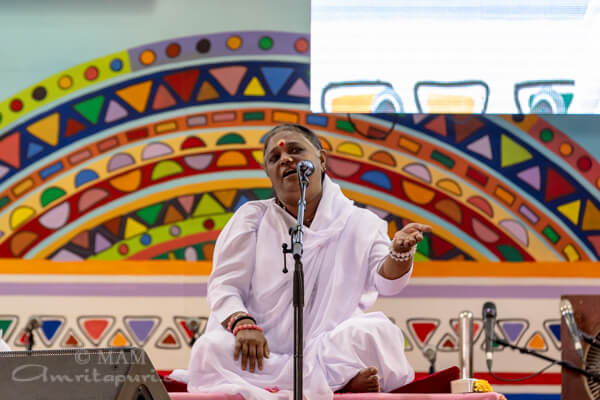 During her satsang, Amma said, "We should give the same importance to nature and culture as we give to science and technology, In just one second, Nature can take back what she has given to us. If we understand this, we will be humble towards nature. In each and every natural disaster, there is a message for us." Amma then led all in manasa puja (mental worship) and meditation – giving instructions in Kannada, the local language.
During darshan, Amrita Vidyalayam students and Students of Amrita Vishwa Vidya Peetham in Mysore presented different cultural programs.