21-22 Feb, Bengaluru, Karnataka – Bharata Yatra 2019
Amma arrived in Bengaluru from Mysuru for two days Brahmasthanam Festival.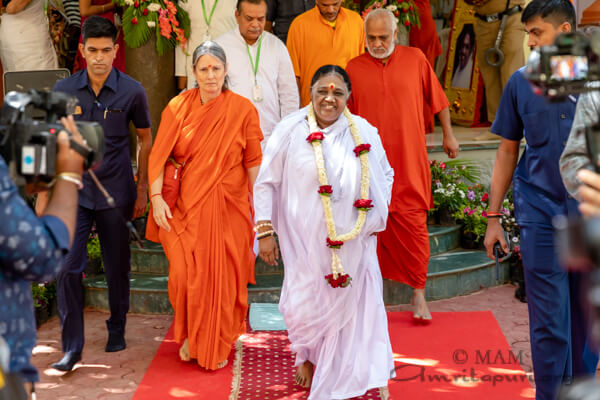 At the start of the programs, many dignitaries welcomed and garlanded Amma. Among them were Justice N. Kumar, Former High Court Judge; Justice Subhash B. Adi, Former High Court Judge & Upa Lokayukta; Justice Ashok Hinchigeri, Former High Court Judge; Ms. Dana Kursh, Consul General Israel in Bengaluru; Sri. Ramachandra Bhat, Vice Chancellor VYASA University; Dr. V.V. Srinivasan, Director, ISRO Telemetry & Tracking Centre; Mr. Tarun Kumar, Regional Officer CBSE; and Mr. Ponnappa, Head of Sony Indian Broadcast. Many other dignitaries were present.
"The respect given to women in this dharma is unmatched across the world," said Justice N Kumar. "Women have always been given great reverence in the Indian tradition from times immemorial. It is for this reason that we say "Matr devo bhava." Women are embodiments of Shakti, Love and affection. We find the essence of all Devis – Gayatri, Savitri and Parvati in Amma. This is the crux of Sanatana Dharma."
Retired Justice Sri Ashok Hingeri also spoke. "This assembly in the divine presence of Amma, gives me the feeling that this is how heaven should be. The relation between the Devotee and Deity should transcend all differences of caste and religion as seen here. Let us walk on the divine path set by Amma. Amma has been showering an ocean of affection on all of us."
During the opening ceremonies, Amma gave away saris to AmritaSREE Self-Help group members. Amma gave satsang and sang bhajans, and also led everyone in manasa puja and meditation. Amma gave instructions in Kannada, the local language.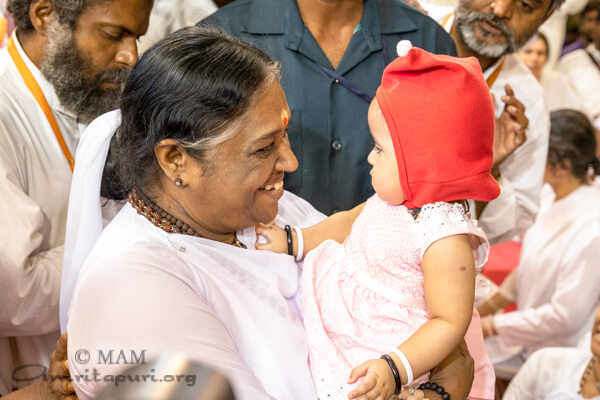 Addressing the devotees in her Satsang, Amma said, "Man's desires and wants are increasing day by day. So much so, that to attain even a little happiness and comfort, he has to fulfill numerous desires. Without money, it is impossible to increase our comforts. Hence, we see a mad rush to fulfill this increasing need for money. One reason for this is our flawed perspective of seeing happiness as coming from external objects. We need to correct this and see that happiness comes not from the external world, but from within us. The path for achieving this is spirituality. External luxury and ostentation may bring some short-lived joy, but they will not provide mental peace and happiness."
During Darshan, Amrita Vidyalayam students and students of Amrita Vishwa Vidya Peetham – Mysore, presented different cultural programs.
-Kannadi