25 Dec 2018, Amritapuri – Xmas celebrations
As every year, Christmas at Amritapuri ashram was a very memorable and festive occasion. Devotees from all over the world joined in the celebration and cultural presentations in Ammas presence.
The evening programme started with a traditional German Christmas charol. Amma's international little children and teenagers then showcased a scene from Jesus' life through music and dance. After a traditional Chinese dance a much applauded mime story was presented, narrating the story of an old man, who was trying to remember his childhood days and regain an innocent heart. Various Ashram children presented a dance depicting the ten incarnations of Lord Vishnu. The cultural programme culminated in the singing of the song "Silent Night" and a musical drama about love and compassion, ending with a powerful gospel rendition.
In her Christmas message, Amma said: "Today, our spiritual values are drowning in a flood of external comfort and pleasure. Rather than celebrating Christmas in worship, people prefer to indulge in the external celebrations. This Christmas, it might be good to reflect on a few things such as "How many good actions was I able to do in God's name during the past year? How many people's tears was I able to wipe? Were my actions able to bring a little light into a few lives?" We should spend some time in such self-reflection. "This past year, when people told me of their sorrows, did I spare a little time to listen to them? Were my words able to bring them comfort?" We should do some inner reflection. "Of the 24 hours given to us each day, was I able to spare at least one hour to help selflessly?" In this manner, we can transform ourselves into real human beings."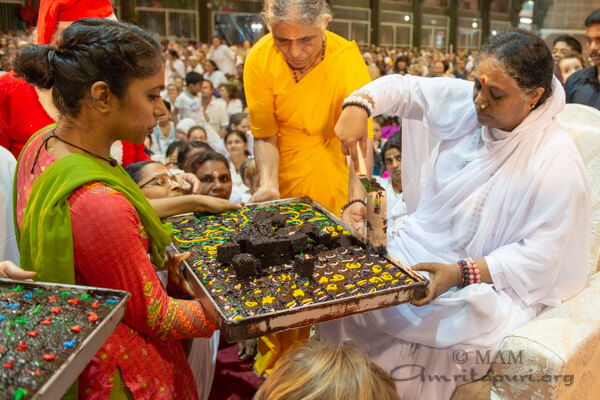 In the spirit of Christmas, Amma sang the english song "Only love": "Only love is our guiding light, only love can heal and unite, only love shines so bright, only love can end this night". Soon after, she cheered the crowd with a rocking version of Mata Rani.
After a prayer and mediation for World Peace, Amma followed another Xmas tradition at Amritapuri: Blessing chocolate cake, which was distributed as prasad (blessed gift) to one and all, reminding us of the sweetness that comes with Divine Love.
-Dass