2-3 November, M.A.Center, Brombachtal, Germany – Europe Yatra 2018
Amma's program at M.A. Center Germany has become an annual pilgrimage destination for Amma's devotees all over Europe, and this year was no exception. The ashram center, located in an idyllic setting amid beautiful rolling hills, provided the perfect ambience for the program. Arriving at the center from Munich, Amma took time the evening before her programs began to serve prasad and spend time with all the local volunteers, saying to their delight, "Guten Appetit!" (enjoy your meal) before they began their dinner.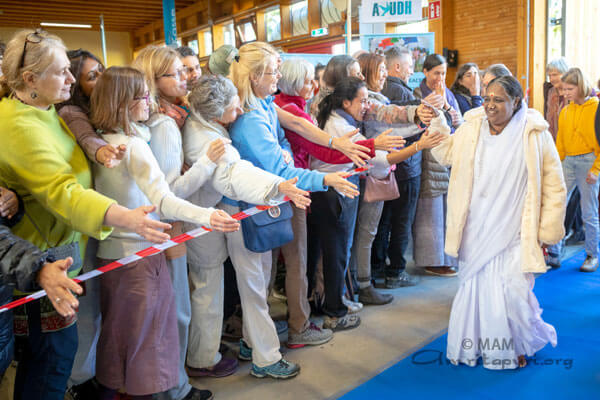 Welcoming Amma to the region, Mr. Willi Kredel, mayor of Brombachtal said: "Having such a remarkable personality like Amma here in Brombachtal makes us incredibly proud. And like every year, it is absolutely astonishing to see so many people here along with Amma, who all wish to do something good for society. This is truly rare in today's world. If there is anything that we can do to support Amma from the side of the municipality we are more than happy to do so."
Mrs. Pratibha Parkar, the Honorable Consul General of India to Germany (Frankfurt) was also on hand to welcome Amma. Mrs Parker said: "Amma's embrace and her love are a real manifestation of the ancient Indian principle of 'Vasudaiva Kutumbakam' – seeing the world as one family. This is so important nowadays. As children, we all consider the arms of our mother to be the safest place in the world. But as we grow older we lose that sense of trust. To me, Amma embodies the true form of motherhood: we feel secure when she embraces us. I feel so honored to welcome Amma here today."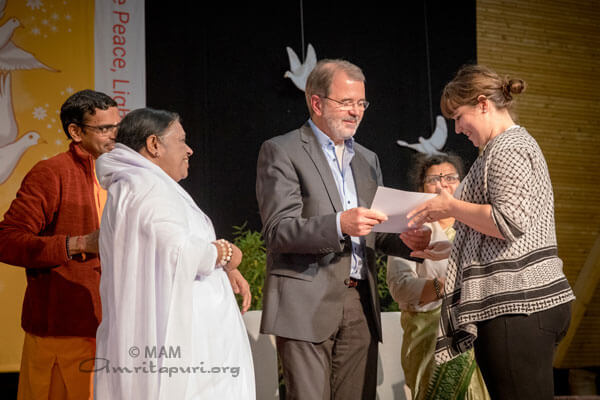 During the function, Amma also handed over EU Youth pass Certificates to 12 graduates from the Social Impact Leadership program, run by AYUDH Europe. The youth from Denmark, France, Germany, Greece, the Netherlands and Spain have completed a yearlong training in leadership, project management and mindfulness. They attended three high-level seminars in Berlin (Germany), Athens (Greece) and Bilbao (Spain) and implemented one social project per country group.
Fittingly, Amma spoke about the value of believing in oneself. "Children, never lose your self -confidence. It is like a booster rocket. It helps us break free from the bondage and impurities of the mind and allows us to soar to the heights of spirituality. It is like fuel giving us the power to forge ahead."
It was not only human beings but the horses living on the ranch who enjoyed Amma's darshan this year, as she took time out to lovingly feed them. As the horses ate from Amma's own hands, one could feel all of the surrounding nature blossoming in the light of Amma's presence – a natural beauty imbued with the fragrance of peace, love and compassion that follows Amma wherever she goes.
-Kannadi