30-31 October – Munich, Germany, Europe Yatra 2018
This was Amma's first visit to Starnberg in the Bavarian region of Germany. The program was held in the Biberkor Montessori School.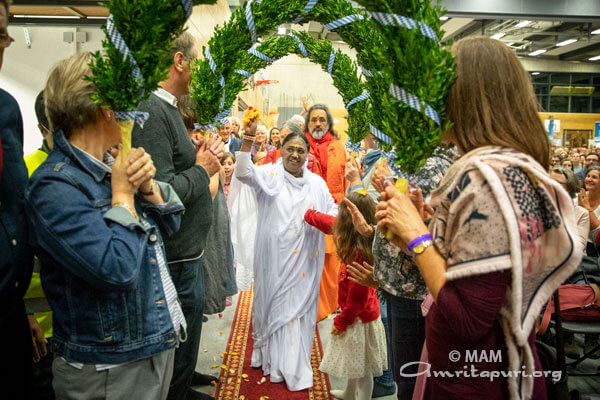 Amma was welcomed to Germany by the Indian Consul General Shri. Sugandh Rajaram; Rupert Monn, Mayor of Starnberg; actor, director and TV personality Sebastian Goder, as well as the director and owner of the Montessori Biberkor school.
In welcoming Amma, Shri. Rajaram remarked, "Amma, as we all have experienced, is another word for compassion – compassion to bring the whole world together, surpassing the boundaries of nations, societies, gender, even age – teaching us all to live together, to love each other, and to live for each other. Amma has been the true torchbearer of this ethos of Indian civilization, where the whole world is regarded as one family. Amma has taken this ethos to the whole world – to all of humanity."
Mayor Monn expressed his gratitude for Amma's having come to Starnberg, and expressed his wish that her visit would leave a lasting impression in the hearts of all those attending. "Dear Amma, I am thrilled at the sight of all people who made a pilgrimage here because of you. Amma gives the gift of love to every single person, she animates us to do the same and to make the world better and more peaceful, step by step, and to alleviate suffering. Your visit, dear Amma, will go down in the history of our town. For the numerous visitors, I hope that you will honor Amma's wish – providing humanitarian help and loving our neighbours – and spread it in the world."
Mr Goder exhorted the crowd to draw hope and inspiration from Amma's visit. "Amma, you are truly the ambassador of the treasure we are longing for so much: love and peace. Amma fills the heart of those meeting her with love and peace. No wonder that so many people all over the world wait all year long to finally be in Amma's presence. Amma helps people to find the true source of love and peace because this source is nowhere else than within us. So let us feel it and above all, pass it on. With Amma's inspiration, we can succeed. Let us make the world the wonderful place it has always been."
Amma's visit was well covered by the media, including the newspapers Suddeutsche Zeitung, BILD Zeitung and Starnberger Merkur, as well as national television and radio stations.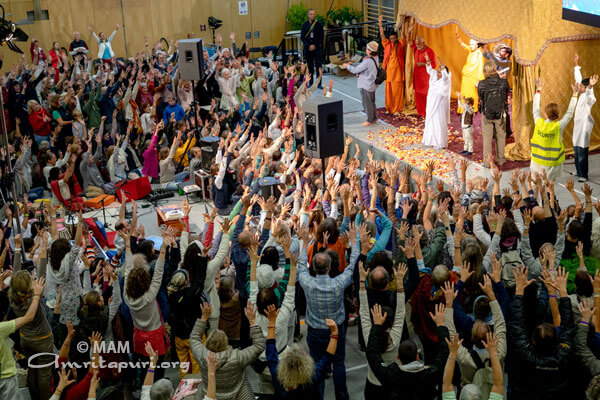 Amma's programs in Munich are always marked by spellbinding classical musical performances, and this year was no exception. Being in the heart of Bavaria, this year also saw a number of traditional folk music performances.
As a part of AYUDH's Trees for Peace campaign, Amma blessed saplings, which were handed by the local dignitaries over to local AYUDH members.
In her own remarks to the crowd, Amma issued a call for us all to take the high road, relying on the goodness that already dwells within every human being. "Don't let the inner negativities cover all your inner goodness. You have even more love than anger within. You have to awaken that love. Each moment is precious because each second a new creation is occurring. What is this new creation? A kind word, a compassionate glance, a loving smile, a good deed—all these give new life to those around us."
-Kannadi