On the 11th of September (the 125th anniversary of Swami Vivekananda's famous speech at the Parliament of World's Religions in Chicago), Amma was bestowed ISOL Foundation's "Trinity 2018 Ma Sarada Award." The award was presented to Amma at the Oriental Institute of the University of Chicago" for her selfless love and compassion towards all beings and dedicating her entire life in alleviating the pain of the poor and those suffering physically and emotionally."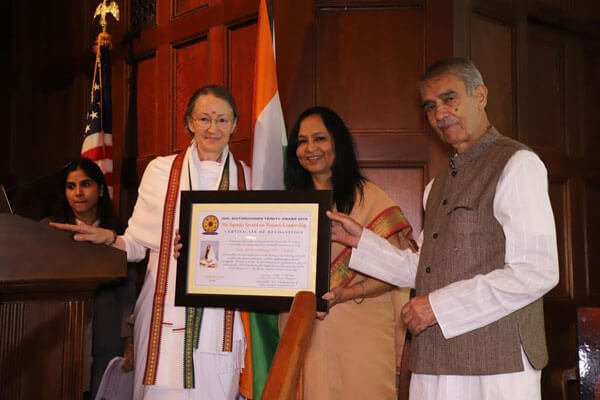 Brahmacharini Rema Devi of M.A. Center (USA) accepted the award on Amma's behalf from ISOL's Founder & Honorary Convener Dr. Sunita Singh Sengupta and ISOL Foundation's Chairman, Dr. J.L. Raina.
Rema Devi read a short message from Amma. In the message Amma praised the award's namesake Holy Mother Sarada Devi as a role model for women all over the world, and said, "In today's world, where amassing wealth, gaining power and winning are the only mantras we hear, we truly need to create a balance between the material and spiritual worlds. … Men and women are like the two wings of a bird. Society only works smoothly when they work together with harmony and respect. However, to steer its way through the sky, a bird must also have a tail. Similarly, both men and women need true knowledge—spiritual knowledge—to live with proper balance in life."
Amma then offered the award to all of the Embracing the World volunteers all over the world, who are selflessly and tirelessly working for the peaceful coexistence of human beings and nature.