24-26 June, Illinois, Chicago – America Yatra 2018
Amma's annual three days of programs at MA Center Chicago in Elburn were marked by important local figures who came to show their appreciation for the work Amma and the MA Center has done for the local community, county and the world at large.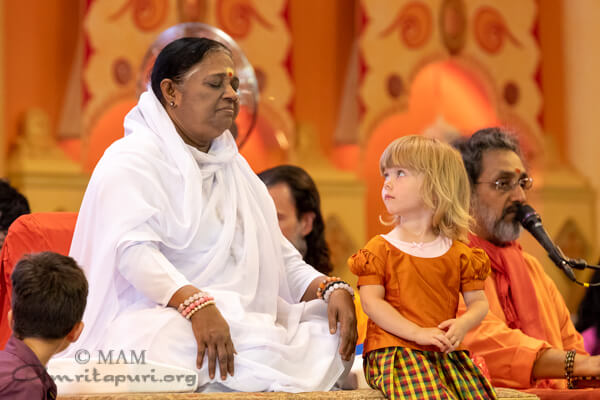 The Kane County Connect local paper ran an article about Amma's visit, saying "What's perhaps most amazing about her visit here is that she spends time and grants a hug to individuals who simply show up to seek her blessing. It's rare to see a world religious leader having so much direct contact with the general public."
Chicago resident Michael Cull's curiosity got the best of him when he saw a couple of tweets from Kanye West: a picture of Amma and then another to remind the world that everyone needs hugs.
"I like adventures," Cull said. "I saw Kanye's tweets and I figured it was something I needed to check out. It's really pretty wild that so many people are willing to spend this much time and effort for just a hug. "
Sindhu Ramachandran, who explained to the friends who accompanied her that her life has changed for the better after becoming an Amma devotee just a few years ago. "I was stubborn, and if I didn't get my way, I wasn't happy," she said. "I'm still stubborn, at least a little bit, but I've gotten a lot better about it. My outlook on life changed. I've found the peace that was missing, and I find myself living in the moment instead of freaking out and turning everything into a huge problem. We all have problems. Now I know if I'm patient I can find solutions."
Beyond Amma's yearly visit, her center in the Chicago area serves as a spiritual and humanitarian pillar all year round. The 142-acre ashram is residential with 60 residents and growing — offering living spaces to individuals from 280 to 2,000 square feet. Sixty acres of the ashram is dedicated to agricultural land, which is cultivated by many of the ashram residents who have been committed and dedicated to growing non-GMO and pesticide-free produce since August 2013. This includes vegetables and plants including tomatoes, cucumbers, Indian vegetables, fruit orchards, as well as a variety of medicinal plants. It is also leasing approximately 11 acres for chemical-free agriculture. Honey is also being produced from local bee hives that are maintained by the residents. The impact on the local area has been remarkable and much of the produce is sold in local farmers markets that are also committed to selling non-GMO and pesticide-free produce.
The MA Center also engages closely in grassroots social-service projects for the local community. Each month volunteers go to a local homeless shelter where the group cooks and serves lunch for around 150 people. In the last five years, they have not missed a single month and are the longest-standing meal donor at the shelter. Many people at the shelter have expressed their gratitude for the commitment the MA Center has shown them and have said that the food they provide is their favourite.
A variety of workshops are also conducted in the center. Recently, a workshop was held featuring leaders in organic-seed production.
Beyond service, the MA Center Chicago serves as a pillar of spirituality for the community. With daily prayers for world peace each morning and devotional singing every night, the residents spend their time in introspection, meditation and prayer with the ultimate aim of serving humanity.
-Dass