23-24 April, Kochi, Kerala – Bharata Yatra 2018
Amma was received with a surplus of energy and enthusiasm upon her arrival at Kochi Brahmasthanam. Amrita Students were present to chant Vedic mantras and cheer "Mata Rani Ki Jai!"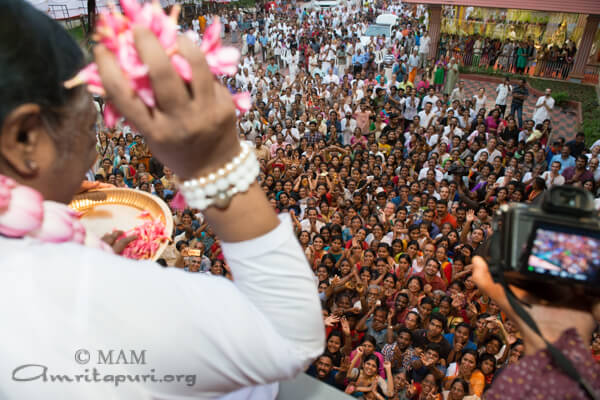 Actor Jayasurya; Seema Jagaran Manch National Organiser, A Gopalakrishnan; Kochi Mayor, Soumini Jain; MP, KV Thomas; MLA, Hyby Eden; and MLA, KJ Maxy, were all there to welcome Amma and offer their thanks.
MP, KV Thomas, said on the occasion, "The love and motherly affection, the brotherhood Amma shows to all, you will not be able to get it from anywhere else. That is why wherever Amma goes, thousands gather without the distinction of caste, religion, or language. Everyone understands her."
MLA, KJ Maxy, also had kind words to share, "A consolation and peace of mind radiates from Amma to those human minds in Amma's presence. Amma's charitable activities are also becoming, not only help to the people but also help to the government—like in the case of disaster relief and the drinking water projects in the villages."
Actor Jayasurya said: "We can only like someone, or love someone, because of a reason. Such small human beings are we; but without expecting anything from anyone, loving all beings, this is the lesson I have learned from Amma.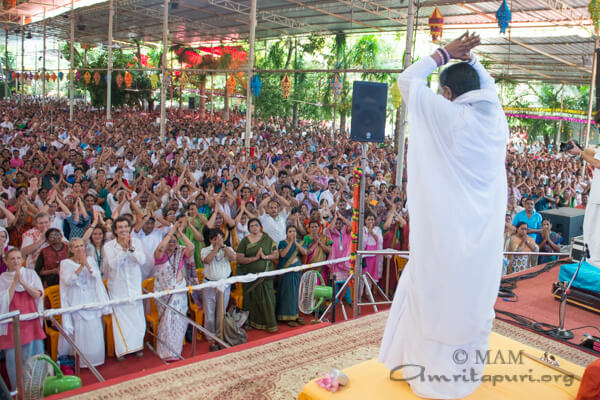 Kochi Mayor, Soumini Jain spoke: "A mother will give a lot of instructions to children when they grow up. Those instructions will help a person become a human being. We come to Amma with a lot of problems and sorrows, we want consolation and freedom from all this. After a darshan, we feel relieved from all this, we go back with a peace of mind. If we can imbibe those wise words Amma tells us, only then will we enjoy the full benefit of the darshan."
On both days of the program, Amma addressed the devotees, sang bhajans, and led all in a Manasa Puja and prayer for world peace.
Addressing the devotees, Amma said, "Society is losing mutual trust, and nobody cares to share love and dedication. We all wear a mask and beneath the facade is our true self, which sometimes we fail to recognize. The world is facing the threat of war, terror attacks, violent crimes, and environmental disaster.
"There is a rhythm in every creation, an undeniable relationship between the universal force and the living beings. The universe is like a vast network. If it is shaken at one place, the vibrations are felt across the entire network."
To honor the occasion, Amma gave away saplings to AYUDH members in an effort to promote the green initiative in the city.
Working capital for AmritaSREE Self-Help groups and saris for the members were distributed as well.
Clean drinking water units were also gifted to the panchayats of Amballoor, Kodungalloor, and Chottanikkara as part of the 'Jivamritam' program.
Students of the Amrita educational institutions were also there to present an array of cultural programs throughout both of the festival days.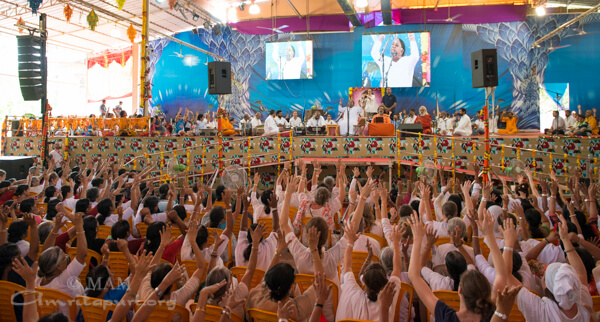 After two long days of darshan, Amma sang "Eli Eli Eli Eli" to conclude the Kochi festival and Bharata Yatra 2018, which started in Thiruvananthapuram and traveled to Chandigargh in Punjab. All in all, Amma travelled more than 6,300 km in a span of four months, from January to April, for what was a long and memorable journey to visit thousands of devotees in cities all across India and offer her love and blessings.
-Kannadi