20-21 April, Trissur, Kerala – Bharata Yatra 2018
Amma held a two-day Brahmasthanam festival in Trissur, where the sweltering heat was only reduced by the summer's evening rain. Despite the hot weather, the program grounds were swarming with devotees that had come to receive Amma's blessings.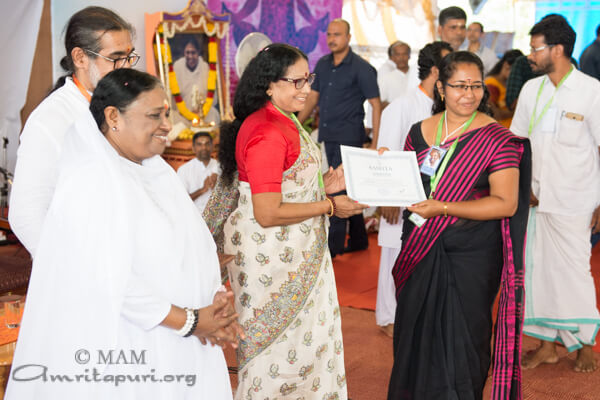 As part of her offering to the city of Trissur, Amma gave away saplings to the local AYUDH team members in order to promote planting more trees.
Certificates of completion were also given to six Panchayats of Trissur, where clean drinking water was made available as part of the Jivamritam project.
AmritaSree Self-Help Group members were also given Saris and working capital.
Amrita Vidyalayam children of Trissur, Chavakkad, and Cheruturuthi were present throughout the festival to present different cultural programs.
One Amrita Vdyalayam student, Annie Ribu Joshy, a 17 year old girl who is the champion of an anti-drug campaign, was in attendance. She has counseled more than 5 lakh students about the ill effects of drugs and alcohol. "If they are ready to change, I just need two hours to convince them and change them," Annie said with confidence. She started an NGO for this purpose, the Anti-Drugs Campaign. Amma took the time to award her during the occasion of Brahmasthanam festival.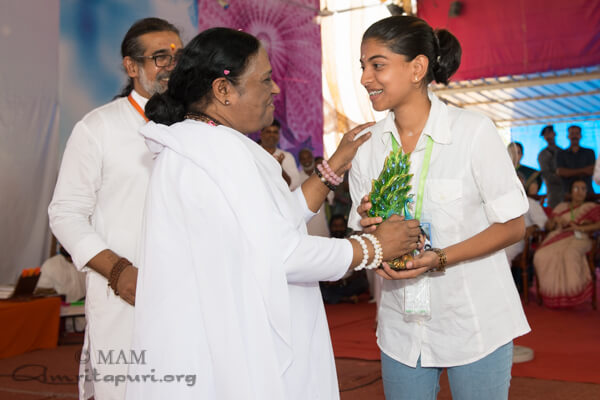 Speaking on the occasion, Amma said: "Parents often fulfill all the desires of their children, expecting them to prosper in life. However, they do not think about the consequences. We should have control over our desires or it will have an adverse effect on our lives.
"People are shrinking themselves to mobile phones and TV. They make friends on Facebook, but in the process, get isolated from the real world."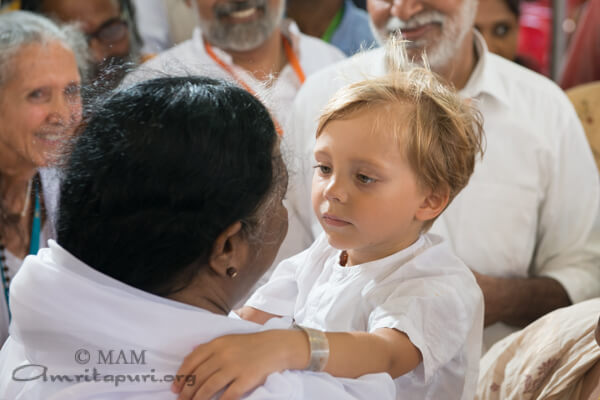 Former Speaker of Kerala Asembly, Therambil Rama Krishnan; State Vice President of BJP, S. Jayaram; Police IG, Ajith Kumar; Renowned Music Director, Viswmbaran Master and Bharata Naytam exponent, Padmasree Kalamandalam Shemavati, were among the prominent people there to welcome Amma to the city.
Kalamandalam Shemavati spoke these worlds to the devotees: "Amma is the lamp that sheds light into the dark mind to make people walk on the right path and help them to think in the right direction. She educates us to faithfully love our mother, father, and teachers, and to receive knowledge from them. She helps us to discriminate between right and wrong, and to have good thoughts. To imbibe Amma's teaching, that is why you have all come. I feel proud about it."
After two days worth of hot weather and endless darshans, Amma sang "Jai Mata Di Jai Jai Kar Bulavo…" before departing Trissur for the final program in Kochi.
-Kannadi