17-18 April, Palakkad, Kerala – Bharata Yatra 2018
Amma held a two-day Brahmasthanam Festival in Palakkad, Kerala. In spite of the intense heat, many devotees came to see Amma and receive her blessings.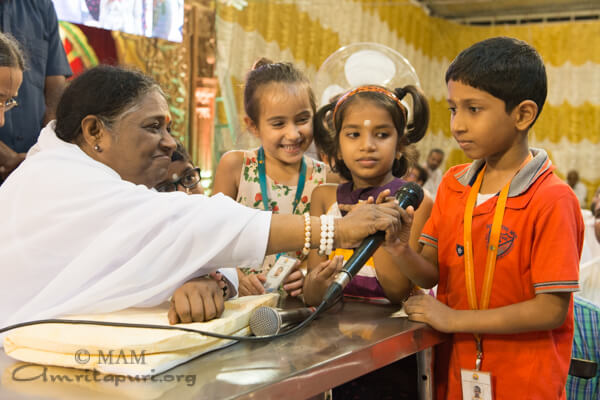 During the festival, Amma gave away saplings to AYUDH team members in order to promote an effort to plant more trees. Certificates of completion were also given to six Panchayats of Palakkad, where clean drinking water has been made available as part of the Jivamritam project. Amrita Vidyalayam children were also there to present various cultural programs throughout both days of the festival.
Addressing the devotees, Amma said that human beings should be balanced in all their activities—including sleep, exercise, speech, work, food consumption, and the expression of emotions. If anyone thing becomes excessive, it becomes our weakness, and this weakness can eventually become the cause of our downfall.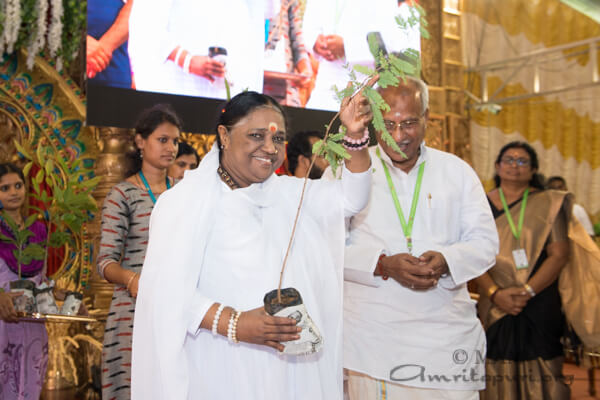 "Thoughts and emotions are food for the mind. Our thoughts and emotions should also be in balance. Moderation is required for our physical, mental, and intellectual activities, it is also required in order to achieve happiness, health, and longevity. "
Amma sang bhajans and gave a Satsang each day. She also led all in a Manasa puja and meditation for world peace.
After two long days spent giving darshan after darshan, Amma sang "Meri Jhoppadi se…" concluding the festival with a song that put a smile on the faces of all who were sad to see her leave for the next program in Trissur.
-Kannadi