2-3 March , Pune, Maharashta – Bharata Yatra 2018
After travelling across the country from Hyderabad, Amma reached Pune at around midnight.
On the way, Amma stopped at Indapur. An evening meditation, bhajan set, and Prasad meal was held on a private lawn.
When Amma arrived in Pune, many of the local devotees fell into tears, overwhelmed with the joy of Amma's presence at the ashram. With the brush of her fingers, a smile, or an utterance, Amma was capable of bringing bliss to the devotees.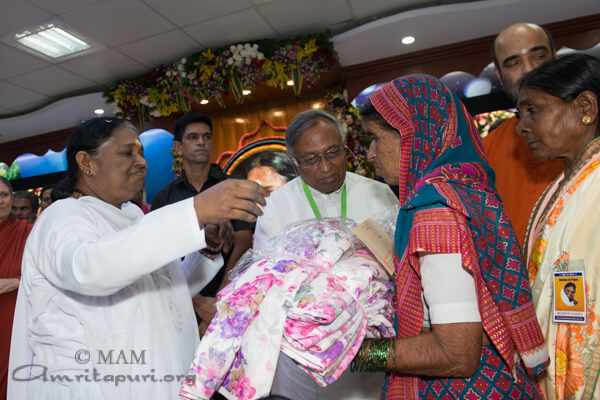 During the Pune program, Amma distributed saris and working capital to the AmritaSREE Self-Help members and gave saplings to members of the AYUDH youth group to promote organic farming.
Srirang Barale, MP, and Dr Vijay Bhatkar, Vice Chancellor, Nalanda University, were the main guests there to welcome Amma to Pune.
Speaking on the occasion, Vijay Bhatkar said he was feeling blessed: "I have gotten the opportunity to meet Amma and receive her blessing. This has been a turning point for me. I hadn't met her physically. I happened to read the biography. Reading that book – transformation within – stated getting experiences. I met Amma in a dream. From that day onwards it was a different life for me.
"As a scientist, I always wondered whether science and spirituality could be integrated, whether they can work together, how we can reconcile science with Bhakti? My questions were answered by amma, 'Amma's life is a guiding force for the millennia to come – Amma is showing the light to the world from Bharat.'"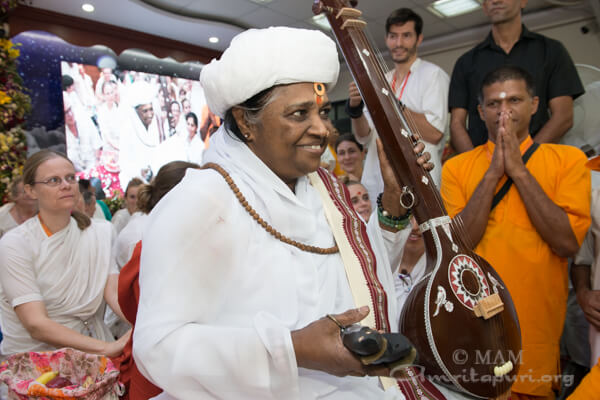 Amma's Satsang was translated into Marathi, the local language. She also led all in a Manasa puja, instructing in Hindi, and sang a lot of Hindi and Marathi bhajans.
Amrita Vidyalayam children presented various cultural programs. Pt. Nandakishor Kapote offered a Kathak (a classical dance) for Amma.
Being Saint Tukaram day, the devotees decorated Amma in the costume of Saint Tukaram, a saint who lived in Maharashtra in the 17th century.
The devotees also brought coloured powders to play Holi with Amma. Amma sprayed water and powder all around, and they too sprayed colours on each other and on Amma. Singing the Holi song, Amma brought all to a mood of celebration and joy once again.
The two days of festivities came to an end, leaving memories of happiness in the minds of all the Pune devotees as Amma departed for the next stop in Mumbai.
-Kannadi