28 Feb – 1 Mar , Hyderabad, Telangana – Bharata Yatra 2018
Amma arrived in Hyderabad just before midnight to a crowd of devotees that had gathered to welcome her.
The next morning, Irrigation Minister, T. Harish Rao, and Special Advisor to the State Government, S. Venugopalachary, were to meet Amma on her first day of scheduled programs.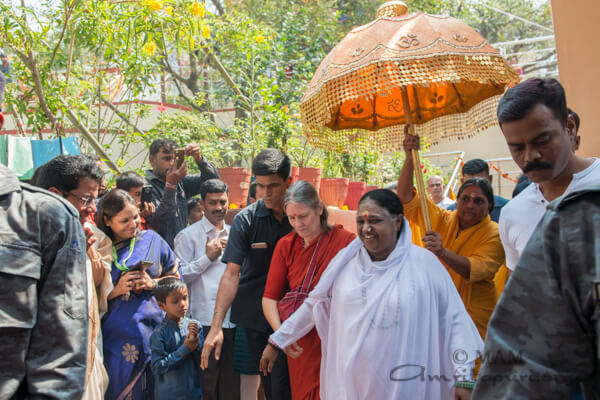 Amma appreciated the effort put forth by the state government in their aim to prioritize much-needed irrigation projects. In a private meeting, Harish Rao asked Amma to give her blessings for the irrigation projects, which supply much needed agricultural water to farmers.
As part of the Amrita Serve project, MAM has adopted Kodur village in the Medak district and Gudipaticheruvu in the Guntur district of Andhra Pradesh. In Kodur village, Amma has initiated a program that trains locals to produce low-cost, biodegradable sanitary napkins, and, separately, has begun providing tuition for children from kindergarten age to Class 10. Amrita Serve also installed a compressed mud block manufacturing unit, which serves as a durable, eco-friendly alternative to the existing bricks. The unit is enabling villagers to earn a livelihood.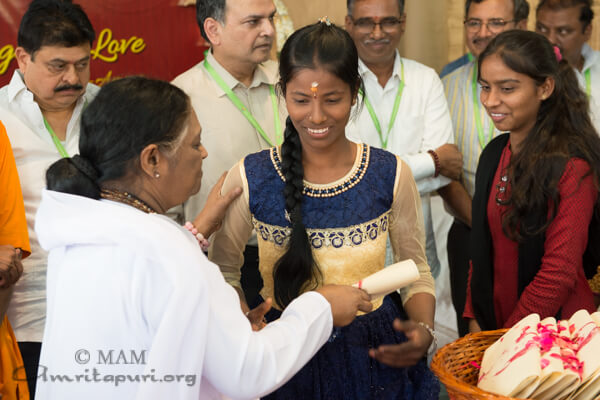 Amma distributed saris and working capital to the AmritaSREE Self-Help Group members, and AYUDH members were given saplings to promote organic farming. Biodegradable sanitary napkins made by the Amrita SeRVe project were also distributed to the teenage girls in attendance.
Speaking on the occasion, SK Joshi, the Principal Secretary of the Govt of Telangana said, "Amma is a living example of an integral human. We all have seen how much effort Amma has put towards help elderly people, orphans, and others."
Amma led all in a meditation and Manasa puja, delivering the instructions in Telugu (the local language). Her Satsang was translated into Telugu and she also sang a number of Telugu bhajans.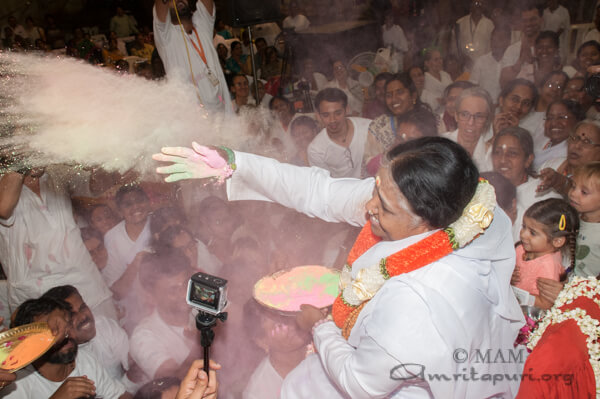 The two final days of the festival fell on Holi. Many devotees brought colours and 'Pichkari' to Amma. As is the tradition on Holi, Amma sprayed the colours on all around her, creating a vibrant atmosphere full of joy and laughter. As well, Amma sang a Holi themed bhajan with the line, "Jagadeeswary prem ki rang me rali…" which can be translated as, "oh Divine Mother spray the colours of love all around…."
Finishing the Hyderabad program with an ecstatic Holi celebration, Amma and the tour group departed the city for the next stop in Pune.
-Kannadi