23-24 January, Chennai, Tamil Nadu – Bharata Yatra 2018
In Chennai, Amma's two-day Brahmasthanam festival filled the Chennai Ashram with a bustling crowd for the Bharat Yatra 2018. This year marks the 28th anniversary of the Chennai Brahmasthanam temple's consecration.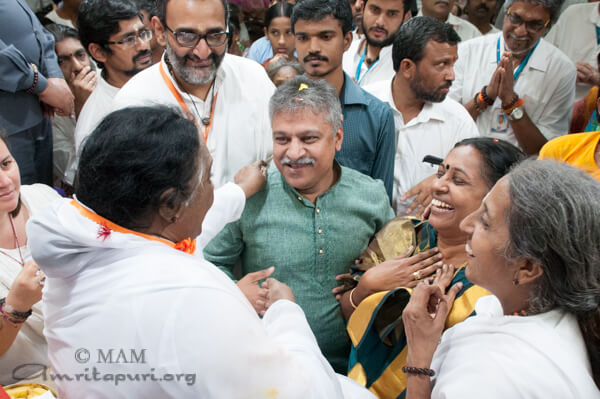 Devotees thronged the venue from the early morning until the daily program's finish late in the evening. Being the 28th anniversary, a mixed set of familiar faces and new ones colored the joyful two days of celebrations. Delivering her satsang in Tamil, Amma led the Meditation in Tamil as well.
Addressing the devotees Amma said that ancient seers have told that human beings should be balanced in all their activities – including sleep, exercise, speech, work, food consumption and expression of emotions. If anything becomes excessive, it becomes our weakness and this weakness can eventually become the cause of our downfall.
The thoughts and emotions are food for the mind. These thoughts and emotions also should be balanced. Moderation is required for our physical, mental and intellectual activities for happiness, health and longevity.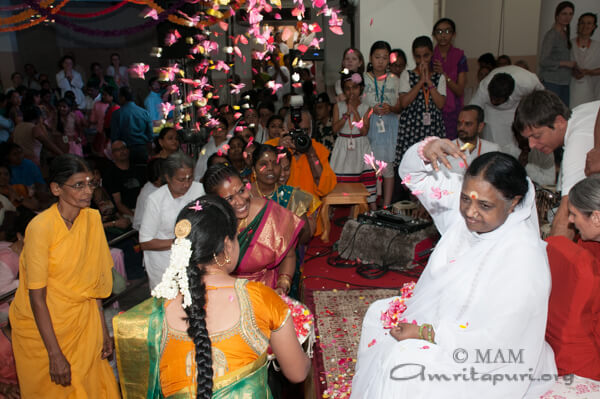 As has happened in the past, many famous singers and musicians performed for Amma on stage. Among the musical delights were Kumari Kanyakumari and Lalgudi GJ Krishnan, AS Ram on Keytar, who gave stirring performances. Famous singers Anuradha Sriram, Sriram Parasuram, and Amrita Murali also performed on stage. A Bharatanatyam dance performance by Aswin and Arjun made for a cultural evening alongside Amma's Darshan continued.
During the two day bustling days of Brahmasthanam festival, Amma spent more than 15 hours on stage each day. As soon as darshan on the second day finished, around 3:30 AM, the colorful Chennai program came to a close and Amma immediately departed for the next program in Coimbatore.

-Kannadi