18-19 January, Madurai, Tamil Nadu – Bharata Yatra 2018
Amma held two days of Brahmasthanam festival activities at her Madurai ashram. The 2018 Bharata Yatra marks the 23rd anniversary of the Madurai Brahmasthanam temple's consecration.
Welcoming Amma to the city, Rajan Chellapa, MLA said, "Amma demonstrates the perfect harmony between spirituality and social service. Amma's Tsunami relief, drinking water projects, free education and other relief projects are the best proof of this. Amma's Satsang touches our hearts and inspires us."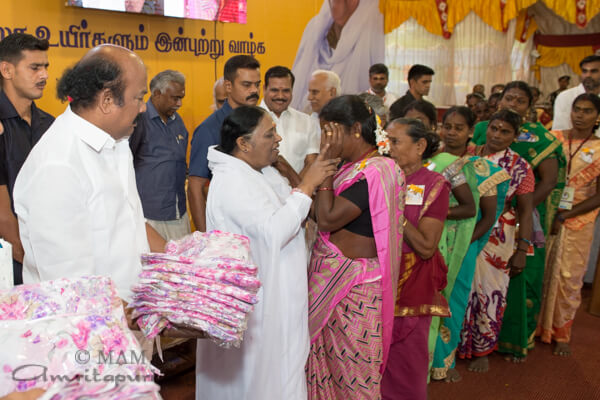 To show her thanks to the city of Madurai, Amma distributed 1,000 sarees to the 25 leaders of the AmritaSree Self-Help Groups that operate in and around the city. As well, Amrita Vidyalayam students presented various cultural programs.
Both days of the program began with Amma leading the crowd in a set of bhajans, a ManasaPuja for world peace, and a guided meditation, all the instructions of which were given in Tamil, the local language.
In her Satsang, Amma spoke of the importance of ridding oneself of vices, such as alcohol and cigarettes, "Permanent bliss is what everyone is searching for, and it has to be explored in one's self. Nowadays, there are many people with lots of Facebook friends who are lonely in real life."
After hearing her speech, a little girl, seven years of age, during darshan came to Amma with a question regarding Amma's talk. "Amma! is it right to depict Mandhara (of Ramayana) as transgressor? I feel it is because of Mandara's gossip that Lord Rama went to forest vanquished Ravana. So… didn't she do good to the world?"
Amma answered with a mischievous smile. "Daughter, your perspective is also right. Everything happening is for good. For example, a person slips and falls. After that, he takes every step carefully. Soon he sees a snake on the way and tactfully avoids it. It was because of the slip that he became alert and ultimately escaped from the snake bite. So the fall was for good. If we view life events from this perspective, it is all for good."
"Amma said Mandara's example in the satsang to highlight the impact of dhussanga – bad company. Amma doesn't refute your point of view." So saying Amma showed thumbs up to her, lavished kisses on her cheeks. Needless to say, the kid was filled with boundless joy and delight.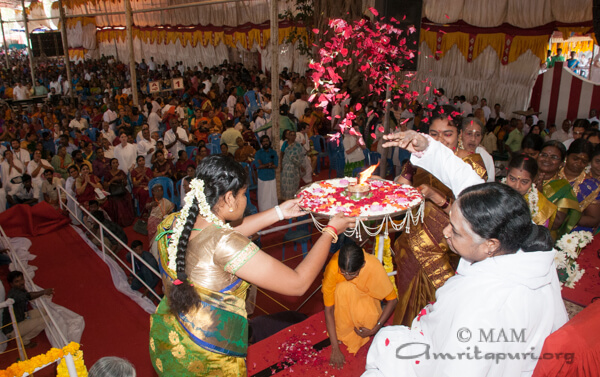 Over the many years Amma has visited Madurai, it has become a tradition for the devotees to bring 'mulapari.' This year was no exception, they came with the sprout on their head and the 'ululooing.' They also danced around keeping all the pots in sync.
At the close of two long days spent giving thousands upon thousands of embraces, Amma got up from her seat and danced to the tune of Badugas, which brought a departing smile to the faces of all the Madurai devotees who were sad to see her go.
-Kannadi