16 Jan, Kanya Kumari, Tamil Nadu – Bharata Yatra 2018
After Tiruvananthapuram Brahmasthanam festival Amma arrived in Kannyakumari for an evening program. The program was held on the grounds of the Amrita Vidyalayam school.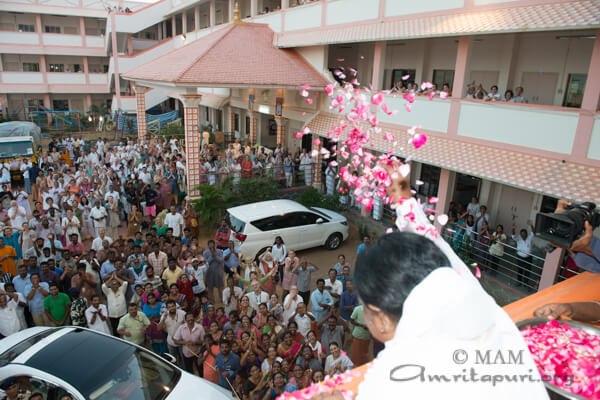 Union Minister of State for Road Transport and Highways & Shipping, Pon Radhakrishnan, welcomed Amma to Kayanakumari with these words:
"Swami Vivekananda was blessed by the Divine Mother and that was how he was able to spread the teachings of Hinduism worldwide.
"This is my prayer:
"Oh! Divine Mother who blessed Swami Vivekananda;
"Oh! Divine Mother who did intense penance by standing on just one leg;
"May you please make this district as your Holy abode.
"Amma! Please adopt Kayanakumari district. Please protect our people. I request to start a medical college and medical hospital in our district."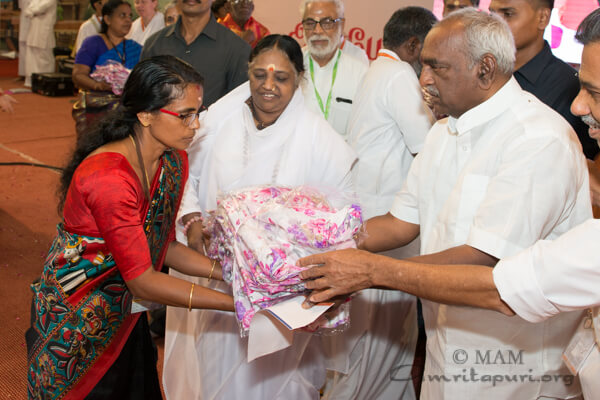 Also in attendance was Swami Chaitananyananda ji Maharaj of Vellimalai Ashram, who asserted that Amma has incarnated to uplift us spiritually and liberate us from the cycle of birth and death. In his speech to honor Amma's presence in Kayanakumari, Swami Chaitananyananda ji said, "If spirituality perishes, Bharath will perish. No other nation will be able to bestow peace in this world other than Bharath. If Bharath perishes, the entire world will perish. If the world shouldn't perish, Bharath should be saved. If Bhartha should be saved, spirituality should be saved. Amma goes around the globe and spreads spirituality, thus she is saving the entire world."
Swami Sivachandran, who also attended the program, had his own words of praise for Amma, "Nothing in this universe can equal Amma's love. Amma, You don't discriminate against people based on caste or creed. You embrace everybody impartially. Nobody else can do what Amma is doing. I see God in front of me in Amma's form.
"We come across people who give lectures on Peace, love, equanimity and here Amma demonstrates all those noble values."
Amma gave way pension, saris, and working capital for AmritaSREE self-help group members of Kanyakumari area. The dignitaries helped to distribute these to the beneficiaries.
After the warm greeting, Amma delivered a satsang and sang a set filled with Tamil bhajans before leading the devotees in a manasa puja for world peace and a meditation with instructions in Tamil.
The large crowd that had gathered to hear Amma's words stayed up the whole night, until 8:30 AM the next morning, patiently waiting to receive Amma's darshan. Amongst the guests were office bearers from Vivekananda Kendra who came to receive Amma's blessings.
Amrita Vidyalayam children presented various cultural programs throughout the night and into the morning.
During the darshan, a stray dog wandered onto the stage and sat on Amma's peetham. Amma lovingly petted its head. After few moments it left the stage, only to return once again at the end of darshan.
After a long night, Amma said goodbye to the devotees of Kayanakumari and headed off to Madurai for the next program.
-Kannadi