25 Dec 2017, Amritapuri
As is the tradition in Amritapuri, Christmas was celebrated in grand style on Sunday, with more than 1,600 visitors from more nearly 100 countries, and more than 600 participants of a national AYUDH India summit also here for the festivities.
During Amma's darshan in the afternoon, groups of international residents and visitors sang Christmas carols to the delight of all, infusing the atmosphere with an air of festivity and joy.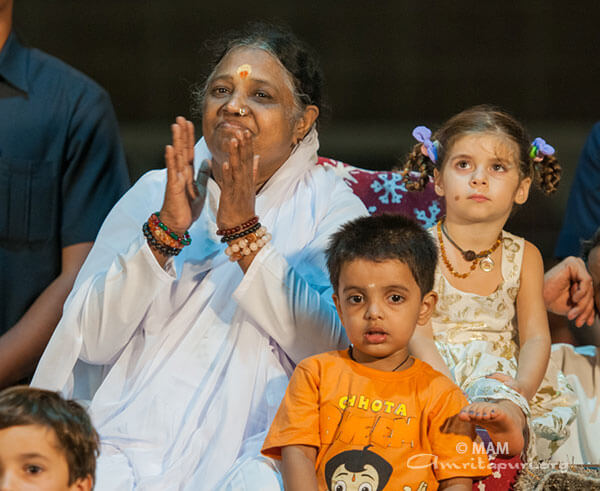 After Amma's darshan concluded around 11:00 pm, Amma came down to sit among the devotees to enjoy the annual Christmas musical, written and performed by Amma's international children. More than 120 people came together to create the performance, entitled, "Walking Beside Us," featuring an original script, music and lyrics, dance choreography, extensive hand-painted sets, hand-made costumes, elaborate lighting and special effects. This year's performance was all the more impressive in that it featured many children in leading roles. The children performed with confidence and skill in tightly choreographed scenes. This year's play was conceived as the story of Christmas told through the eyes of little children.
After the musical concluded, Amma's gave her message in which she said "Celebrations such as Christmas are mankind's songs of awakening. Occasions like Christmas Deepavali and Onam remind us of sacrifice, compassion, humility and firm faith in God and the need to put them into practice in our life."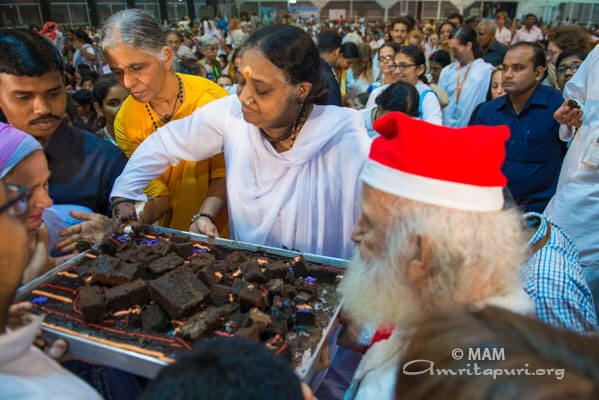 The Christmas festivities concluded with Amma leading the entire assembled crowd in two bhajans (Only Love is our guiding light in English and Jai Mata Di Jaykar bulavo in Punjabi) calls of Mata Rani Ki Jai and a group prayer for world peace with the chanting Om Lokah Samastah Sukhino Bhavantu. Finally Amma personally blessed tray after tray of a chocolate Christmas cake – enough for each person at the festivities to get a piece, and ending the holiday with a tangible sweetness that had imbued each moment of the day.
– Kannadi