2-4 November, Hof Herrenberg, MA Center, Germany – Europe Yatra 2017
The 2017 Europe Tour started with Amma's 3-day program at her center in Hof Herrenberg, Brombachtal, Germany. This is the 30th consecutive year that Amma has visited Germany. Amma's children from different parts of Germany and all over Europe flocked to Brombachtal to participate in the tour's inaugural program.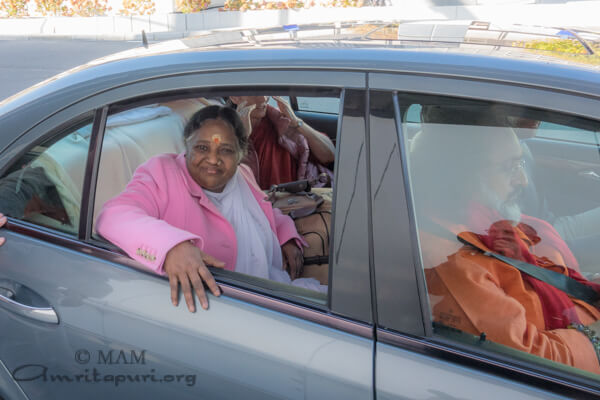 Amma was welcomed to Germany by Mr. Willie Kredel, Mayor of Brombachtal and Mr. Stefan Kelbert, Mayor of Michelstadt as part of a ceremony celebrating Amma's 30th visit to Germany.
In his remarks, Mayor Kredel reflected, "Last year, I started my speech with "wow!" because in Brombachtal, we don't often see this many people of this many nationalities in one place. To be very honest, it makes me proud that we have this center at Hof Herrenberg in Brombachtal. It is pure joy to look into the faces of so many loving people, some of them full of anticipation. We have been and will continue to, support these events in whatever way we can. Knowing that Amma is such a fantastic person, who does so much good in this world, gives me even more joy."
Mayor Kelbert shared his own feelings about having Amma visit their community each year: "I am happy to be a part of this world, both on behalf of the city of Michelstadt and personally. Even though we are standing on stage right now, we feel like we are a part of all of you.
Moi Leevke Wolfsteller, the chairperson of Amma's charitable organization in Germany, gave a moving speech commemorating Amma's anniversary visit: "It all started 30 years ago, and I remember it like it was yesterday.
In those days, Amma's programs did not take place in halls like this one, but in living rooms of people who admired Amma, in yoga studios, doctors' offices, local community centers. We used to rent class rooms in schools. Since then, the halls got bigger and the crowds grew more and more.
So much change. So much growth. The only factor that has remained unchanged is our Amma. Her limitless love and her limitless compassion flow continuously towards us, over and over and over again. Regardless of whether it is 35 or 3,500 people.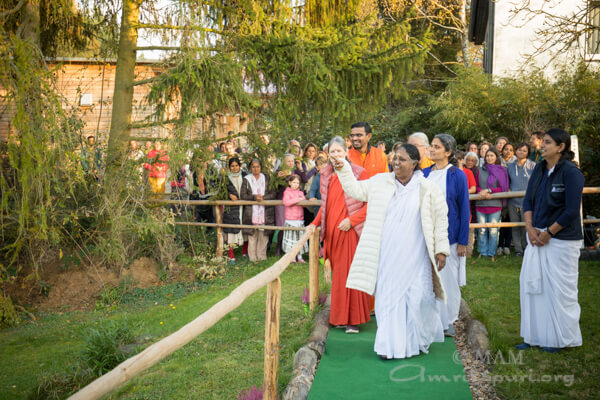 For 30 years, we have been recipients of this unbelievable love. We cannot find the right words for this beautiful gift that Amma has been giving us without a break for such a long time. There are no words for this.
How can we thank Amma for returning again and again? It is Amma's wish that we integrate the spiritual values that she talks about and that she exemplifies, into our own lives. If we become more loving and more selfless in our thoughts, more caring and sensitive in our words, more compassionate and humble in our actions, both towards ourselves and towards others, that is our thanks to Amma.
In the name of all devotees in Germany, dearest Amma, I would like to express our deepest admiration and our innermost gratefulness for holding us and our country continuously in your embrace. From the bottom of our hearts: Thank you."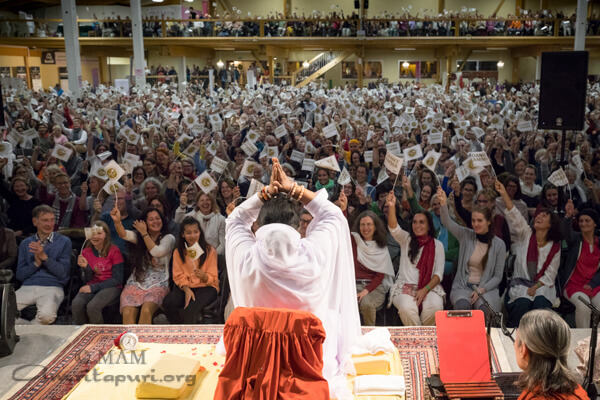 On this occasion, Amma handed over oak saplings to the residents of M.A. Center in Brombachtal. The trees will be planted on the property of the center in memory of this momentous and sacred occasion.
AYUDH presented Amma with a garland of seeds enclosed in beautiful heart-shaped papers, each one inscribed with a prayer for world peace. The papers can be planted directly into the ground to grow into beautiful trees, living symbols of the love and light that Amma has inscribed into the hearts of each of these children that have grown up under her wing.
The program ended with a surprise – each person at the program – thousands of Amma's children, all stood and waved flags reading Danke Amma – forming a beautiful tapestry of gratitude and joy.
All three days of the program saw thousands passing through the doors of MA Center and into Amma's arms. Each night, as Amma made her way back from the program hall, her path was lined with devotees holding hearts and lamps, each one offering a prayer, "May this lamp symbolize the light of your love, and may it burn forever brightly in our hearts."
– Kannadi