Australia, April 11 – 27, 2017
Amma visited four cities across Australia, holding free public programs in Melbourne, Sydney, Brisbane and the Gold Coast, and retreats in Melbourne and the Gold Coast in her 18 days program.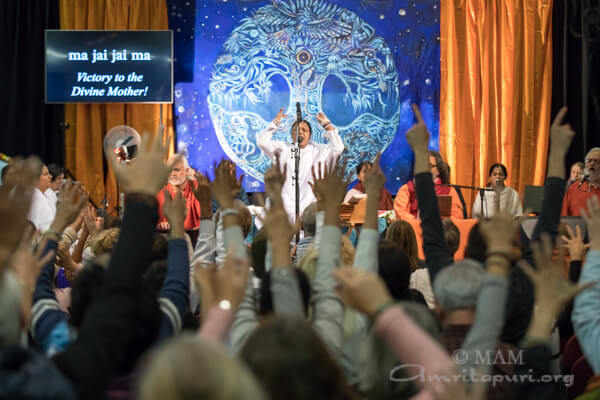 Amma received a warm welcome to Australia from the Government as well, with State Member of Parliament for Carrum Sonya Kilkenny attending Amma's first program in Melbourne. In her remarks, Ms. Kilkenny said, "On behalf of the Victorian government, I extend to Amma the very warmest of welcomes. You are an inspiration. Known for your selfless dedication to India and the world's poor and needy, you indeed are a true fountain of love and compassion. You have achieved so much through the Embracing The World's global network of charities, and you have inspired millions around the world to get involved and make a difference… Thank you Amma for all that you do and for being you."
Counselor Paul Puelich spoke on behalf the Federal Shadow Minister for Multi-Cultural Affairs, saying, "Welcome to Australia, Amma! You've served the world community for decades. Through your extraordinary acts of love, inner strength and self-sacrifice, you impart wisdom, strength, and inspiration. For all that you do, Amma, thank you. May your teachings and example continue to give people hope and positively change their lives."
Mr. Rakesh Malhotra, Consul & Head of Chancery, Consulate General of India was also on hand to welcome Amma, reflecting, "Amma does not need any introduction. She has dedicated her life for the benefit of others. She has been spreading the message of love. Love is very important in this world which is filled with hatred and jealousy."
In Sydney, the Consul General of India Mr. B. Vanlalvawna, reflected, "Amma's messages of love, peace and compassion are universal. They are essential for the establishment of a healthy society. I feel each one of us have a lot to learn and draw inspiration from Amma on the importance of putting others in need before ourselves."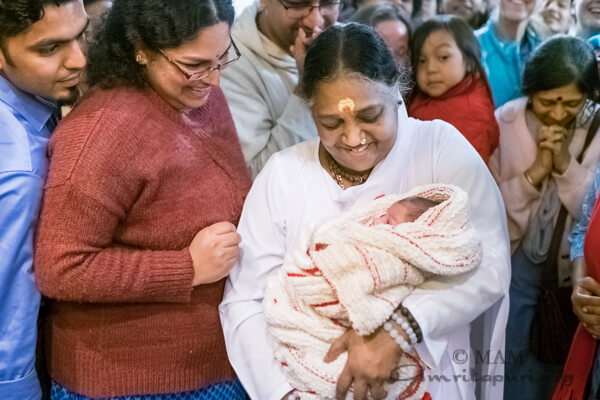 Amma traveled by road throughout the country, and the tour group enjoyed two precious stops along the way. En route to Brisbane, Amma stopped at the beach and led a meditation as the sunset with the waves lapping against the shore just steps away. It was raining in the distance, and as the meditation concluded, a rainbow appeared in the sky. Amma shared the story of a little girl with a terminal illness, who faced her illness with equipoise and spent her days spreading love and joy to others. When asked where she found the courage to live her life this way, the little girl said that whenever she got discouraged, she thought of the rainbow: "Even though it exists for such a short time, it gives so much joy and happiness to others while it shines in the sky. I want to be like that rainbow." When Amma finished relating this story, she asked how many of her children also want their lives to be like a rainbow. Hand after hand raised into the air, palms open and outstretched. Meanwhile, it had begun to rain, and a second, even larger rainbow appeared across the horizon. Finally, the rain turned into a torrential downpour, almost as if the heavens had opened up and were showering their grace upon all these selflessly-minded souls, each one inspired by Amma to lead their life dedicated to spreading joy and happiness like the rainbow. As the rain continued to pour down, Amma stretched her own arms toward the heavens and sang Srishtiyum Niye. No one moved to take shelter, each one uplifted and transported by Amma's soulful bhajan.
In Brisbane, Amma was welcomed to the region by Aboriginal elders, who performed traditional dances for Amma and the assembled crowd. Kerry Charlton, an Aboriginal elder of the Goorie Tribe, recited a Goorie welcoming blessing:
"As you travel across this country
May you stand strong and tall
as the iron-back tree
may your roots be wings that fly you ever higher
as a friend who has come to share the gift of You…
Gentle may your feet walk up our land
as ancient rhythms whisper to help you understand that
Though we are different, we are also the same
Goori wisdom from time immemorial does remain.
Be welcome. Have joy as you travel."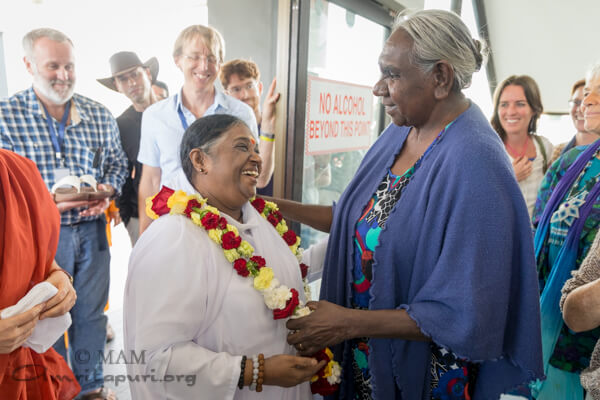 Finally, Amma was welcomed by Miriam-Rose Ungunmerr-Baumann, an Aboriginal elder from the Nauiyu community in the Northern Territory, a member of the Federal Government's National Indigenous Council, and a Member of the Order of Australia for her outstanding achievements and service to Aboriginal people. Miriam-Rose's words were profound, and resounded through a hall that listened with pin-drop silence. One couldn't help but feel that she spoke on behalf of all of Australian's native people, her voice imbued with ancient wisdom that recognized just how precious Amma's visit, and Amma's message, was for all the people of Australia and throughout the world.
"There is something greater than myself that speaks through all of us. That spirit of love. Connection, belonging: these things that connect us all. I am grateful to Amma that she has put out the invitation to connect to the aboriginal people of Amma. Where I live, we are situated next to a mighty river. It feeds us and nurtures us. Underneath the earth there are deep springs that feed the river. There is a deep spring inside us: we call on it and it calls on us. All of have a deep longing to listen deeply to our own spirit and connect with others. I hope that our connection with Amma will bring about a greater spiritual well-being in Australia, where we can listen to each other and work together to support our children. I believe that the spirit inside us will continue to blossom and grow as we open our hearts and continue to listen to each other."
-Dass