8-9 March, Bengaluru Brahmasthanam, Karnataka – Bharata Yatra 2017
The second leg of the 2017 Bharata Yatra ended on a high note, with the final stop of the tour in Bangalore.
There to welcome Amma were dignitaries of all ranks and status. The list included: DV Sadananda Gowda, Union Minister for Statistics and Programme Implementation; RV Deshpande, Minister for Large and Medium Industries and Infrastructure Development, Karnataka; HK Patil, Minister for Rural Development, Panchayat Raj; M Krishnappa, Minister for Housing, Karnataka; and Subhash Chandra Khuntia, Chief Secretary of Karnataka. BS Yedurappa MP, also came and met Amma.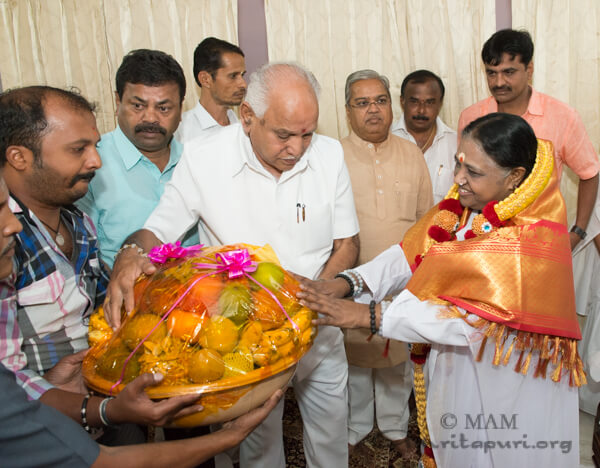 DV Sadananda Gowda praised Amma with kind words, "I think mental peace is the only thing that is required for a human being, if he is mentally sound, if he is mentally able to encash everything certainly he will become a human being, otherwise he will be just like an animal. The blessings of Amma certainly gives us more strength, more energy and we will be able to get everything from the society there by our whole life will be a life of a human being. Amma is the embodiment of the divine as She is doing the work which gives mental peace to all."
"Amma is Mother to all of us — She is mother to the Society, Mother to the Nation, Mother to the whole world and She is blessing all of us today. If we want faith to last then love should grow up more and more. Amma's present humanitarian services towards the society, specially her concern towards the poor and down trodden people, her desire to give them a self confident living today has made lakhs and lakhs of people able to live a self confident life."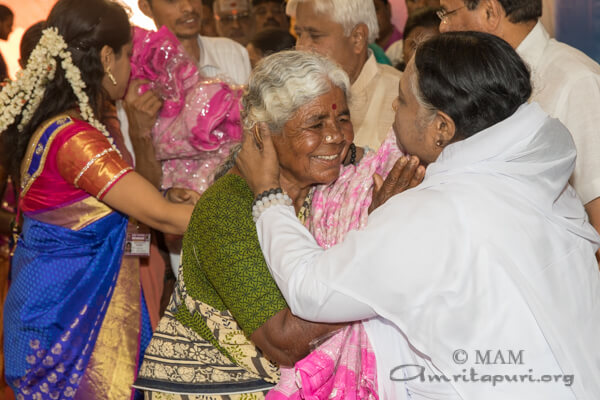 HK Patil, Minister for Rural Development and Panchayat Raj, Karnataka added, "When Government was failing, [during the Karnataka flood] it was Amma and her organization which came forward and saw to it that people were consoled and people were served in a manner which was necessary."
"Where ever you go today in the society, there will a common question as, "Who is this person? Is he rich or poor? What cast he belongs to, whether forward or backward cast? Whether he belongs to SC/ST or OBC? What religion does he belong to?" like this whole horoscope of the person is checked. One is caught in the mental bondage of such discrimination. But when we come in the presence of Amma, whatever be the cast, the religion, the tribe, and the language one may belong but it doesn't matter at all."
Talking about Amma's embrace he said "During the hugging, She is building the bridge of humanity between the hearts of the people which is lost today. Amma's highest and best weapon of influence is – Love. Sharing that Love, making reach that Love to everyone is the work Amma is doing through spirituality. If feel it's our fortune to have Amma with us. "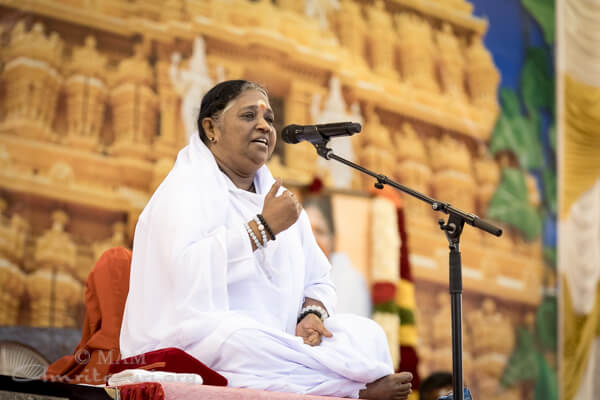 Addressing the thousands of devotees gathered there for her two-day visit, Amma said, "The first ripple of love emerges from within us. When a pebble is dropped into a still pond, the first little ripple forms around the pebble itself. Gradually, the circle of that ripple expands until it reaches the shore. In the same way, love should start within. If we are able to purify the love inherent in us, it will gradually expand to encompass the entire world."
In addition to delivering a moving satsang, Amma distributed Saris to the local self-help group, awarded a number of Amrita Nidhi pensions, sang bhajans, led a manasa puja for world peace in the local dialect, Kannada, and guided the crowd in a meditation.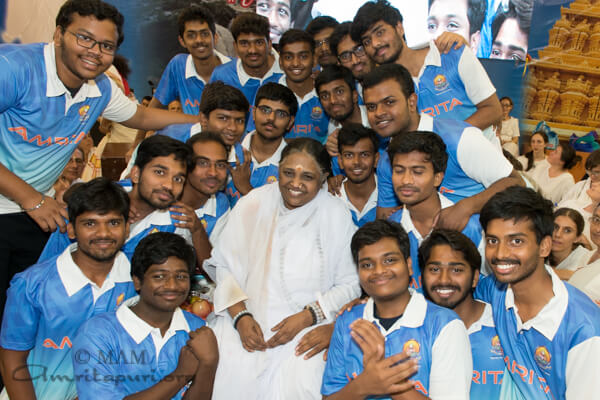 The local devotees gathered there for Amma's darshan responded in kind, offering their hearts and hard work to Amma. Amrita Vidyalaym teachers performed a dance for Amma, students presented cultural programs, the Ayudh group coordinated several plays, and the Amrita Yoga team offered a display of their physical prowess. Both Ayudh and Amrita Yoga had pictures taken with Amma as keepsakes of their displays in Bangalore.
The two days of Amma's darshan were infused with the fervor that Her company generates. It was evident that an array of hard work had been put into making the program the success that it was. Though the program (and the second leg of the 2017 Bahrata Yatra) came to an end, the smiles of the devotees remained strong. Pulling off from the Amrita Vidyalaym grounds, it was clear that Amma's spirit outlasts Her presence in each and every city she visits.
-Kannadi