25 Feb, Udupi, Karnataka – Bharata Yatra 2017
Thousands filled the MGM College grounds on Sunday in hopes of receiving Amma's blessings upon her first visit to Udupi.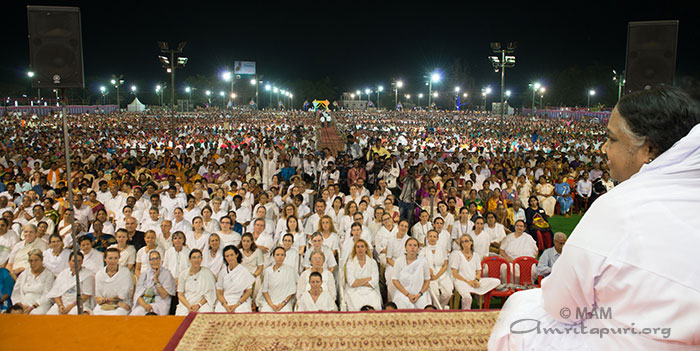 Greeted in the traditional manner, Amma welcomed to a chorus of drums. The welcoming party was complete with a group of devotees costumed as the Nava Durga (the nine forms of the Divine Mother) and another painted as tigers. Once on stage, the local Brahmins chanted the Vedic Mantras to welcome her presence in the holy city of Udupi.
The official program began at 6 pm with the welcome speeches by distinguished guests. Pramodh Madvaraj, the Minister of State of Fisheries and Youth Empowerment noted that the city of Udupi had been waiting 14 years for a visit from Amma. He was elated with her presence. "I have not experienced this level of joy even when I became a minister in the state cabinet."
The crowd shared the Minister's joy and devotion as Smt Shobha Karandlaje, MP of the Udupi Chikmagalur, noted in her speech, "Amma's shakthi is clearly reflected by the strength of her children present here."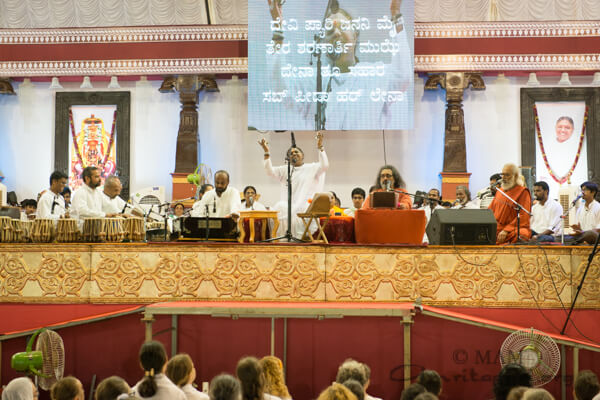 It was clear that Amma's impact on Udupi was not confined to that evening alone.
Prof. HS Ballal, Pro Chancellor of Manipal University spoke of Amma's involvement in the R&D Collaboration of Amrita University and Manipal University in the field of healthcare and education for the benefit of the poor. He reiterated their commitment to take it forward.
After the speeches, Amma offered a Go-Dan (a donation of cows) to five citizens, donated water purifiers to 10 schools, gave Amala Bharatam kits to 11 city members, and adorned 30 representatives of the AmritaSree Self-Help group with saris.
Addressing the crowd, Amma said, "God is the indivisible oneness devoid of all boundaries or separation. Mother Nature, the atmosphere, the birds and other animals, the plants and trees, each and every atom in them is overflowing with this divine power. God is fully present in all that is sentient and insentient. When we fully understand this truth, we can do nothing but love ourselves as well as everyone around us."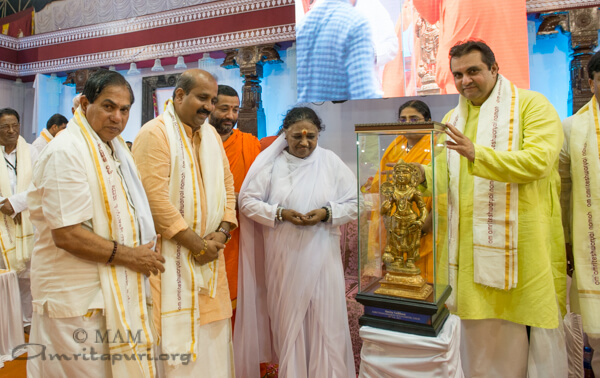 Amma's satsang was followed by a series of Kannada bhajans. Her every word was echoed back to her by the immense crowd of devotees. Thereafter, Amma led a manasa puja, directing the audience in their local tongue in a collective prayer for world peace.
Darshan began with a group of Yakshna Gana actors performing on stage. The whole night was filled with a potent sense of devotion and love emanating from the city. Local devotees offered Amma a two foot Panchaloha statue of Sri Krishna encased in glass.
A mutual love overflowed between Amma and the devotees gathered there in Udupi.
The number of devotees that came to receive Amma's darshan was so large that each embrace lasted a mere second or two. Yet, it was clear that even this small interaction between Amma and the people of Udupi meant the world to them.
In the early hours of the morning Darshan was still going and the crowd seemed endless. Amma continued to bestow her blessings until 10:33 am the next morning, having embraced everyone from uniformed police officers to local dignitaries. It was clear from the patience and graciousness of all who came that the city of Udupi was filled with an intense love for Amma.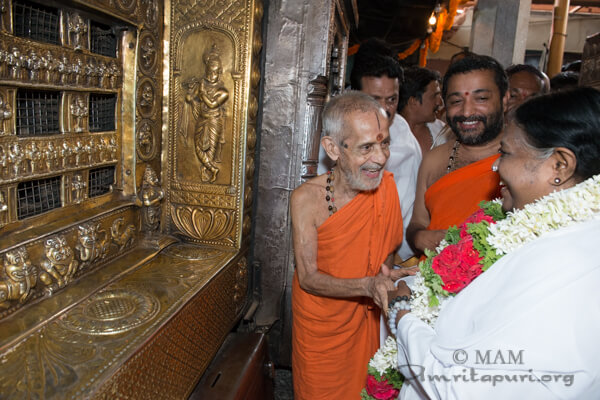 Amma's visit to Udupi was not limited to her many hours of darshan that night. Earlier she also visited the famous Sri Krishna Temple after being invited by Pejawar Math Swami Viswesra Teertha, the elder-most swami of the Pejawar Math. At the temple, Swami Viswesra Teertha adorned Amma with a red shawl and offered her a sandalwood statue of Lord Krishna. The temple, famous for its Krishna idol, one worshipped by Krishna's wife Rukmini herself and cloaked in miraculous tales of fierce devotion of Kanaka Dasa.
Amma's time in Udupi was a most special occasion, the devotees are sure to treasure it for years to come.
-Kannadi