23 Feb, Mangaluru, Karnataka – Bharata Yatra 2017
Amma started the second leg of the Bharata Yatra tour by traveling up the west coast of India to Mangaluru and holding an evening program at the Brahmasthanam there.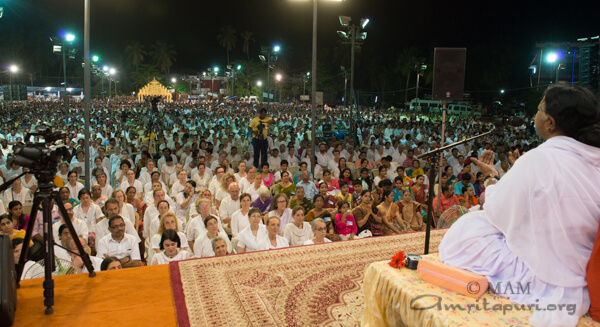 When Amma arrived to the stage, several local students were there to welcome her dressed as the goddess Lakshmi in nine different forms accompanied by their teachers playing drums.
Many dignitaries were present on stage to welcome Amma to Karnataka, including: Sripad Yesso Naik, Ministry of Ayush; P Vishwanath Shetty, Justice, Lokayukta Karnataka State; B Ramanath Rai, Minister for Forest, Environment and Ecology.
Welcoming Amma to Mangaluru, Lokayukta Justice Vishwanath Shetty said, "A new society can be formed only when every individual contributes in building the country. We have already witnessed Amma helping the lesser privileged beneficiaries. Her only intention is to do good for the people and the society. When a natural disaster occurs, be it a tsunami or a flood, Amma takes up the initiative of helping the people, and at the same time, she has inspired many. Amma came from a backward family not knowing any language except Malayalam, and yet, she is able to gain all the love and respect from across the globe, not by her speech but through the service she has rendered over the years."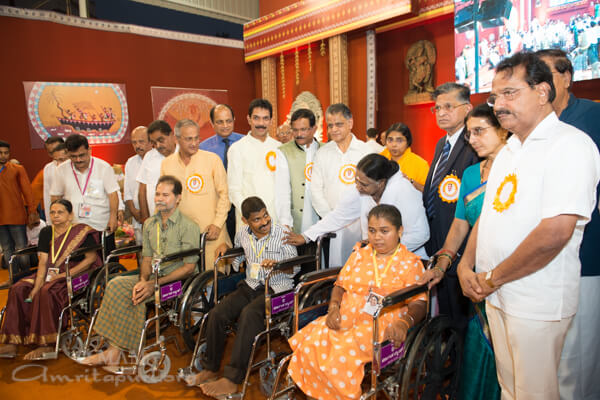 Minister for State for Ayush, Sripad Yesso Naik said, "People gathered here are fortunate to be able to closely witness Amma in Mangaluru. Mata Amritanandamayi Math is well-known all over the country and the world for its service. Amma has always strived to bring society into the right path and guide it forward in terms of spirituality."
During the program Amma extended the reach of her charitable activities in the area when Vidyamritam scholarships were offered to an additional 30 students, Amrita Nidhi pension were given to local ladies in need, financial support was given to 14 schools to keep waste bins to promote Amala Bharatam. Additionally wheel chairs were given to five disabled people, Ayush medical kits were given to 30 people, and saris for members of 30 AmritaSree self help groups.
Speaking on the occasion, Amma said: "The solution to most of the problems faced by society is value based education. When we study in colleges and universities, striving to become a doctor, a lawyer, an engineer, etc., it is education for livelihood. Education for life is the cultivation of spiritual understanding, which is understanding the nature of the world and the nature of our mind, which will help us to adjust to all the different situations that come in life."
After giving darshan all night, Amma celebrated Shivaratri in the evening before proceeding to Udupi for the next program.
-Kannadi