Swami Ramakrishnananda Puri spent the past few weeks touring South America, conducting programs in Peru, Chile, Argentina and Brazil. In each city that Swami visited, large crowds filled every hall. It was incredibly inspiring to see the devotion and enthusiasm of those that attended. Even though it has been more than 9 years since Amma made her one and only visit to South America. The love of the devotees there made it feel like Amma never left them.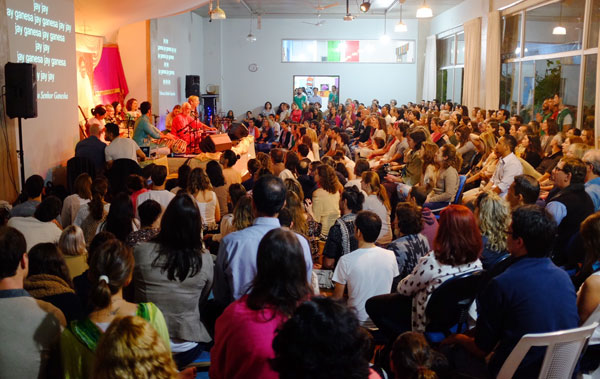 Lima, Peru: Swami was welcomed by the Ambassador of Peru and Bolivia, His Excellency Sandeep Chakravorty. The next three days program included IAM course, the first ever Homa conducted in Lima and Swami's satsang, bhajans and mediation.
Chile: The programs were held in the cities of Viña del Mar and Santiago. Many familiar faces were in attendance eager to listen to Swami's satsang. In his talk Swami reminded everyone that, "In our family lives and work lives, when we run into adversity, if we think how Amma would respond, it will really be just like living all the time with the master. It will help us cultivate an incredible amount of awareness, which is essential for our spiritual growth. And furthermore, the world will benefit as well."
A Puja for world peace and prosperity was conducted in Buenos Aires, Argentina.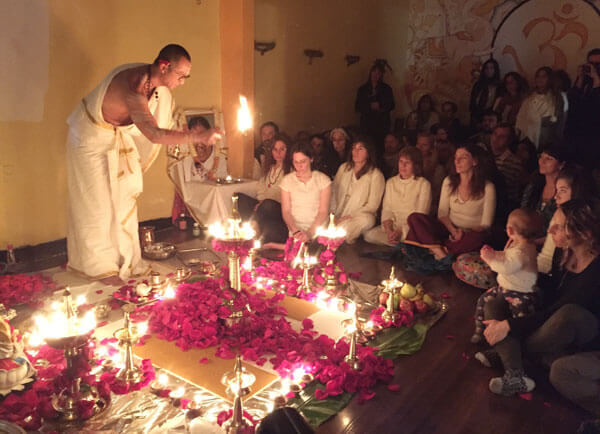 In Brazil Swami visited a total of four cities: Sao Paolo, Curitiba, Araruama and Rio de Janeiro. The lively Brazilian spirit was present in all of Swami's programs where big crowds enthusiastically participated in every part of his program. Everywhere Swami went in Brazil, everyone was asking the same question "When is Amma coming back to Brazil?" Of course only Amma can answer that question, but Swami reminded everyone if they sincerely tune in to Amma she is already here with them.
– Das