10 April, Lucknow, Uttar Pradesh – Bharata Yatra 2016
After the Vrindavan programs Amma next traveled to Lucknow. Even though the group didn't arrive until close to midnight, Amma still took the time to sit with everyone including all the local devotees and distributed a late night prasad dinner and had a small satsang.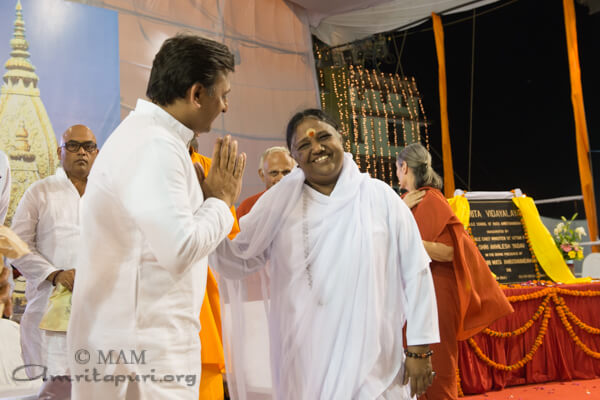 The next day, before the evening public program, Amma visited the residence of the Chief Minister of Uttar Pradesh, Akhilesh Yadav. During the meeting Amma and the CM discussed several different issues facing his people including education, health, and other social problems. The CM's wife, Dimple Yadav, who herself is a sitting Member of the Parliament, also attended the meeting which lasted around 90 minutes.
Later that same evening Amma's public program was held on the grounds of the new Amrita Vidyalayam. The Chief Minister Akhilesh Yadav came to inaugurate the 68th Amrita Vidyalayam. Speaking on the occasion, he said, "Many thanks to Ammaji for visiting Lucknow. All these years I have been hearing from people and the media about Amma and her charitable and social activities around the world. I came to know about her from the people who visited Kerala, but though I wished to go to Kerala and meet Amma I could not make it. But today I got the opportunity to meet her personally talk to Amma and I feel blessed. I hope Amma could replicate her activities in Lucknow, and visit more often and bless us in Uttar Pradesh."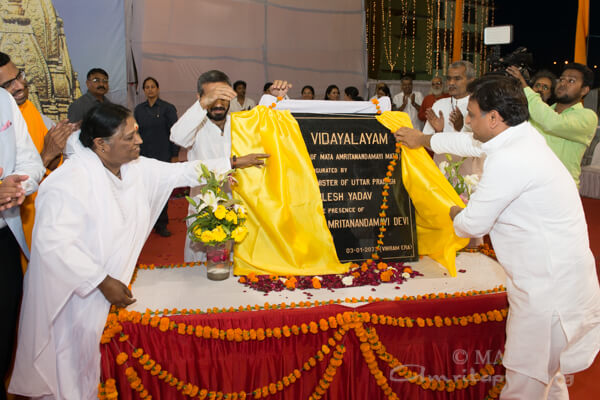 Amma later distributed saris to the villagers of Sarai Surudinpur (Allahabad district) and Ayodhya . She also gave away saplings encouraging them to plant more trees in their villages.
The sants of Sri Ram temple of Ayodhya came to pay respects to Amma.
A group of saints from chakra arty Maharaj Dasharatha's Palace, Ayodhya and from famous temple Hanuman Garhi of Lord Hanumanji came to pay respect to Amma.
After giving her satsang, signing bhajans and leading everyone in a guided meditation, Amma sat all through the night and gave darshan to everyone. The program finally ended at 5:13 am in the next day morning upon which the tour group began the long trip to Calcutta for the final program of the tour.
– Kannadi