8 April, Vrindavan, Uttar Pradesh – Bharata Yatra 2016
Amma held a public program at Fogla Ashram in Vrindavan. On stage, Amma received a warm welcome from more than 60 of Vrindavan's saints and sages. Their recognition of Amma's special place in India's lineage of spiritual masters was an historic moment, as it meant they could look beyond their own traditional definitions and cultural context to see the divinity shining through Amma.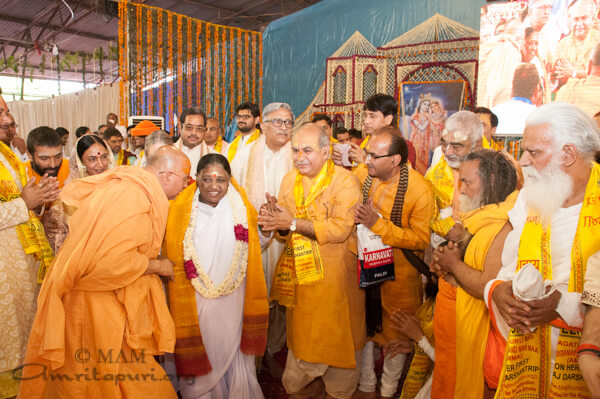 The day of Amma's program happened to fall on a new year of the Indian calendar (Vikram samvatsara) and also on the occasion of Chaitra Navaratri – the nine day festival of Devi.
Welcoming Amma to Vrindavan, Shri. Vineet Narayan, Chairman of Braj Foundation, said: "All the people of Vraj* are pained by the status of Yamuna River. Yamuna is the sister of Yama. She is Sri Krishna's favourite. The people of Vraj use Yamuna for the last rites, not river Ganga like others. The temples in Vraj use Yamuna water for the worship. We have been fighting for years to clean up the Yamuna. But no one listens.  We, the people for Vraj ask for alms to save Yamuna," he concluded with tears in his eyes.
The Yamuna River, once one of the lifelines of India, and still considered one of India's 7 sacred rivers, has become extremely polluted.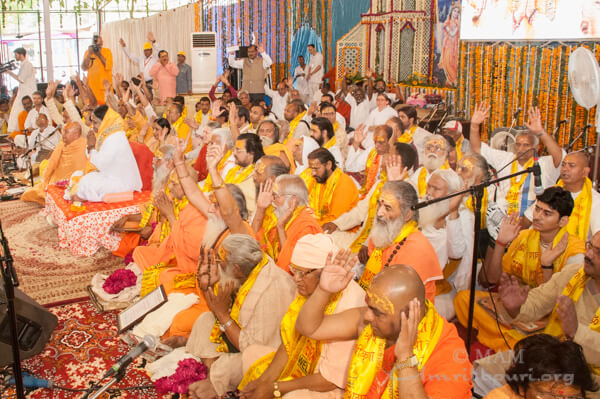 Another Sannyasi, Founder of Seva Mangalam Sri Govindananda Teertha Maharaj, paying his tributes to Amma requested: "When one comes to your feet, when one receives your embrace, one becomes one with your energy and carries it in their life.  All sorrows disappear. When you keep your hand on their head, they become illumined. I also have a prayer. You have embraced 5 crores of people and made them (dhanya) blessed by embracing them. Yamuna is the center of 125 crores of people's faith. I request you to embrace the Yamuna river as well. All the people of Vraj will be also blessed by this. With your power and that of the Govt of India, the Yamuna project will be fullfilled. Many projects were announced in the past, but nothing became successful. We expect you to do this on your visit to Vrindavan. Please take up this project and clean and purify it."
Padmanabh Goswami welcomed Amma on behalf of all the temples. "If Ganga is the giver of Moksha, Yamuna is the one who brings the feet of Krishna and Radha together. For the current state of Yamuna, we are also responsible. Until 15-20 years ago, all the temples in Vrindavan used the water of Yamuna for abhishek, cooking food, and for pooja water.  Now we, the temple authorities, have stopped using this water. Not only of people of Vrindavan, but the desire of all followers of Sanatana Dharma, request you to restore the Yamuna to its original state. Amma please understand the pain and anguish in the hearts of the people of Vraj, We are with you Amma."
Gopal Sharan Devacharya Maharaj of Radha-Golok Nath temple network of 108 temples, said, "Amma is the embodiment of Ma Yasoda. Amma you have seen the pain of all the saints of Vraj. It was expressed in the tears of early speakers."
Phool Gold Vihari Maharaj, speaking on behalf of all the saints and sages of Vrindavan, said, "Amma, please embrace our river Yamuna. She needs your help. Please clean her as you have helped to clean the holy river Ganga and the holy river Pampa."
Each of the sages who spoke on the stage that day had only a single request for Amma:  Clean Yamuna.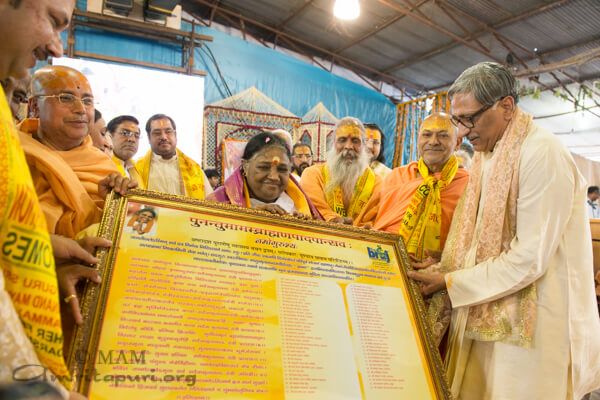 In a departure from her usual way, and in keeping with the tradition of Vrindavan, Amma began her satsang with the call out of "Radhe shyam…" In her satsang, Amma replied to the request of Sadhus and Saints, "No one can do this alone. Everyone has to get together. We have to stop dumping sewage from houses and waste from factories into the river. There is a need to build toilets and bring awareness in the people living along the banks of the river. There should be an alternate solution provided for the factory waste. There is a need to provide subsidies for the factories to take up these alternate solutions, and if they don't follow instructions, there should be consequences – their electricity and water could be disconnected; they could be fined. There is a need to bring more awareness among people. Amma will also do whatever she can."
After her satsang, Amma sang many Krishna bhajans. The crowd actively participated and enjoyed it, in between callout "Radhe Shyam…."
Amma distributed saris to the villagers of Ral, adopted under the Amrita SeRVe project of MAM. She also gave away saplings to the children of the village, encouraging them to plant more trees.
Devotees staged different cultural programs during Amma's darshan; most of them were based on Sri Krishna's leelas.
The stage had flower decorations in the background, representing a house of vines that Radha and her friends created for Krishna with flowers and leaves. The program's organisers did the same for Amma, making the stage backdrop with flowers and leaves along with pictures of Radha, Krishna and Amma.
More than memorable, Amma's visit to Vrindavan was a historic moment in many ways. It was Amma's first visit in nearly 30 years, and this time she was culminated by several hundred devotees; so many residents of Amritapuri made the pilgrimage to be with Amma in Vrindavan that it was like Amritapuri itself had been lifted up and transported to Sri Krishna's birthplace. The recognition paid to Amma by the saints and sages of Vrindavan was remarkable, and showed their willingness to look across all traditional barriers to see the divinity shining through Amma. And for Amma's devotees, each of whom verily strives to become as Radha to Sri Krishna in the form of Amma, it was like a dream come true and deeply significant and meaningful. For Amma's devotees, the time of Krishna and Radha is now – they are gopis living with their Krishna, and perhaps coming to Vrindavan – a place where a similar relationship has resonated down through the millennia, was a chance to see just how precious this opportunity is. Radheee… Shyam!
Kannadi
==
* Vraj – the place where Sri Krishna had his childhood plays (bala leelas) which is more than 2000 sq. km. There are 12 forests in Vraj, Vrindavan is one of the forests.