4-5 April, New Delhi – Bharata Yatra 2016
At the beginning of her two days of programs at her ashram in Delhi, Amma was welcomed to Delhi by Dr. Mahesh Sharma, Union Minister for Culture and Tourism. As part of the opening day ceremony, Amma gave away the keys to six homes newly constructed for people in Himachal Pradesh who had been living without adequate shelter. The new homeowners were onstage to personally receive the keys from Amma. Amma also gave 51 saplings to villagers from Uttarakhand and Jammu Kashmir, hailing from villages adopted under the Amrita SeRVe project.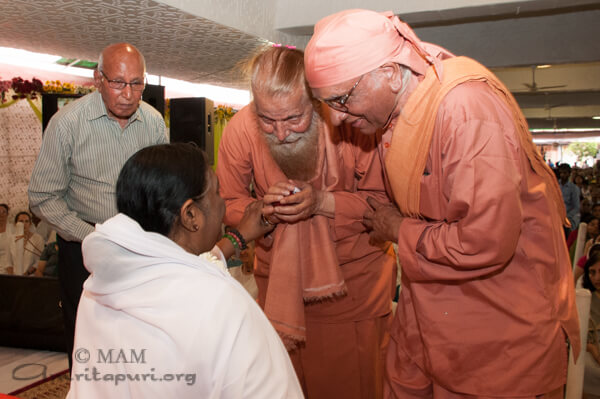 Amma held two days of public program – satsang, bhajan, meditation and darshan – in the Delhi Brahmasthanam festival. During Amma's darshan, enchanting cultural performances were offered to Amma by villagers from Jammu Kashmir, tribal children from Kalahandi, Orissa, and by the children of Amrita Vidyalayam-Delhi.
Amma also received a warm welcome to Delhi by Swamis of the Yogada Satsang Society, and by Nizami Bhandu, acclaimed Qawwal from the Dargah of the legendary Sufi saint Hazrat Nizamuddin Auliya, who brought gifts and sang for Amma in a touching interfaith gesture. Amma really enjoyed Qawwali and the hall was on their toes singing and clapping to the lines "Amma ji Amma ji Amma jiii…. " Literally they were rocking the darshan hall.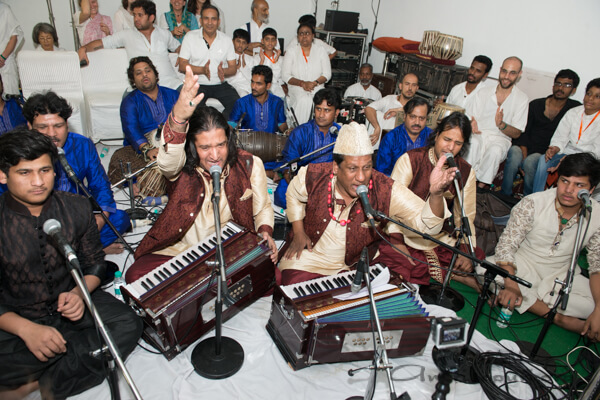 During Amma's visit to Delhi this week, Amma also met several political leaders, including BJP President Amit Shah; Haryana Chief Minister Manohar Lal Khattar; Union Minister for Finance Arun Jaitley; Venkaih Naidu, Union Minister for Urban Development; Maneka Gandhi, Minister for Women's and Children's Welfare and many Government IAS officers.
-Kannadi