Soon after the tragic fire and fireworks explosion at the Paravur Puttingal Devi Temple in Kollam, Kerala, that left more than 100 people dead this morning, Amma responded with a charitable-aid package for the injured and families of the deceased.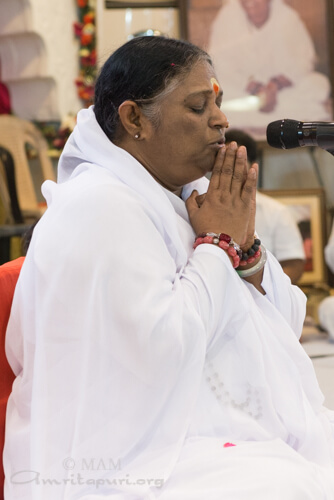 The Mata Amritanandamayi Math (MAM) will provide Rs. 1 lakh to the families of the deceased as well as Rs. 50,000 for the injured and free treatment at the Amrita Institute of Medical Sciences (Amrita Hospital) in Kochi. MAM will also construct free houses for poor families of the deceased and severely injured who lack a house.
"Amma is deeply saddened by the tragic firecracker explosion that took the lives of so many men, women and innocent children and severely injured so many others," Amma said. "Amma's heart reaches out to all of them, to their families and their near and dear ones. I have no words to console them, but can only shed tears along with them. With palms joined and with a heart filled with sorrow, Amma prays for the departed souls and for the peace of their loved ones. May the family members of the victims have the mental strength and understanding to bear this pain and move forward in life."
Amma also questioned the use of firecrackers at temple events. She said, "Every year we hear at least one such tragedy. The government and temple authorities should seriously consider either completely banning the use of firecrackers at temples or to at least minimizing their usage with strict regulation and oversight by the proper authorities."
At Amma's request, Amrita Hospital also sent immediately sent three fully equipped ambulances, several doctors and paramedics to the temple to provide free medical aid.
The temple is located just 45 kilometres from the headquarters of the Mata Amritanandamayi Math.
====
Last night during Amma's darshan in Lucknow, CNN-IBN came and asked Amma about the tragedy. Amma responded, "Similar incidents have been happening almost every year, and hundreds of people have been dying. So, [the use of fireworks at temples] is something we need think seriously about. Exploding firecrackers is only done for the happiness of people–not for the happiness of God. God is not deaf. So, I would say it is best to ban it completely or do it namesake, or possibly allow it but only strictly following all the rules and regulations. It is not enough to appeal to the Prime Minister. The cooperation of the state governments and temple authorities is also important. We should also know the public opinion on it. It may hurt the religious feeling of a certain section of society. So, it is best to consult the state government, temple authorities and devotees. But I can certainly bring it to the Prime Minister's attention."