31 March, Kishangargh, Rajasthan – Bharata Yatra 2016
The trip from Amdavad to Jaipur was very arduous as it traversed kilometer after kilometer of an extremely hot and desolate landscape. Amma and the group left before dawn but as soon as the sun rose, it was impossible to escape its scorching rays, with temperatures passing 38 degrees C (100 F) all day.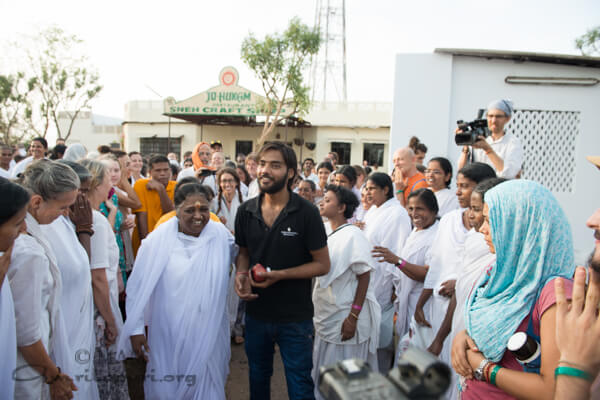 Before the trip Amma expressed her desire to stop and have lunch somewhere with the group along the way, but due to some miscommunication, the vehicles in the tour caravan got split up and took different routes. Both were travelling on parallel roads to the Jaipur. When it was lunch time, Amma and the tour group were very far from each other and it wasn't until 4pm that everyone was reunited on the road just after Krishanghard!
The next challenge was trying to find a place in the shade for everyone to stop and eat and get some relief from the heat. A small dhaba (roadside eatery) that had clearly seen better days, was selected because it had a small veranda, a garden and some grass where everyone could squeeze in to the shade and have lunch with Amma.
The owner of this establishment and her family were overjoyed to welcome Amma and the group, and let everyone use their place for the picnic; until this point she had only seen Amma on television.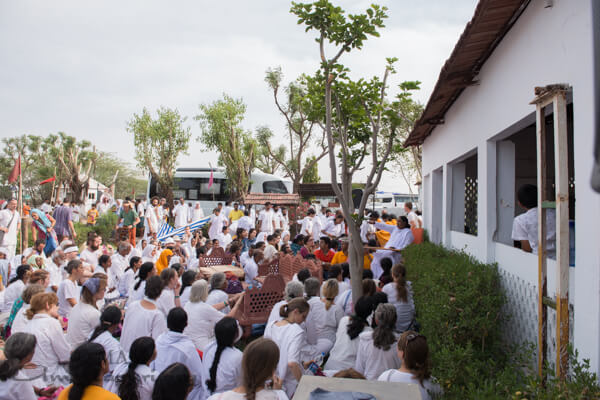 After Amma served food to everyone, had a Q & A session and sang bhajans, the lady who owned the dhaba wanted to speak a few words. She took the microphone and shared her personal story of how her restaurant had once served award winning food and been a thriving business, but that recently it had fallen on hard times. First her husband passed away, and they had to close down for three years. Just three months ago she decided to start it back up again, but it was not doing good. That morning her son tried to reason with her that they should give up on the business and sell it, but she wanted to keep trying to make it work. Finally after her children's persistence she said she would agree to shut it down unless she received a sign to keep it open…and now after Amma's visit she knew it was the sign she was waiting for and was thrilled Amma had asked to stop there with the tour group and bless the place. Before Amma left, she invited Amma to come inside the hotel, which Amma obliged and blessed her.
All were very touched to hear her share her personal story with tears in her eyes and see how even though they may have suffered in the journey's heat waiting to have their picnic, it ended up being in the perfect place at the perfect time.
-Kannadi