29 March, Ahmedabad, Gujarat – Bharata Yatra 2016
Amma held an evening program at the Ahmedabad Education Society Ground.
Several local dignitaries were on hand to welcome Amma to Gujarat including: Minister for Transport, Water Resources, Labour Employment Vijay Ramaiklal Rupani; Dharmendra Bhavani, Central Secretary VHP; Raman B Padiyar Head of VHP S.Gujarat; Manas Shankar Ray, Principal Commissioner, Income Tax; RS Sodhi, MD of AMUL; and Rajnikant Mohanlal Patel, MLA.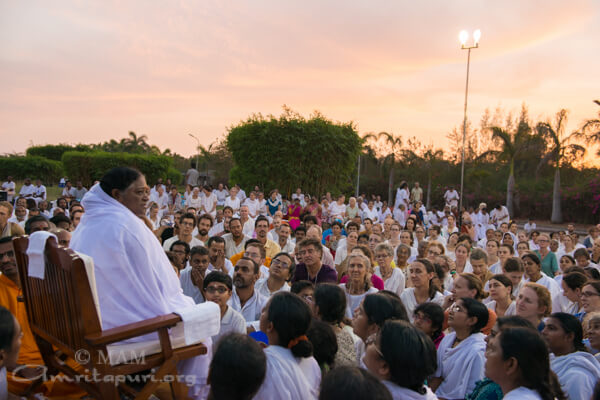 The villagers of Nani Borvai, one of the villages adopted under AmritaSeRVe project, were given saplings promoting the planting of more trees in the villages. They also brought organic vegetables they grew in their village to give to Amma. Many of them were in tears as they were meeting Amma personally for the first time.
Amma gave satsang, sang bhajans and led everyone in guided meditation. She also instructed everyone in the Manasa Puja in the local language of Gujarati as well as singing many bhajans as well in the local tongue.
Throughout the night, local Amrita Vidyalayam children presented different cultural programs throughout the night.
Amongst the thousands who came for Amma's darshan, there were a few new people who were shedding tears, overcome with emotion upon meeting Amma for the fist time. They told Amma they just need devotion and dispassion. A few of them even asked Amma to be their guru and received a mantra from her.
The darshan came to an end at 7.37 am the next day morning.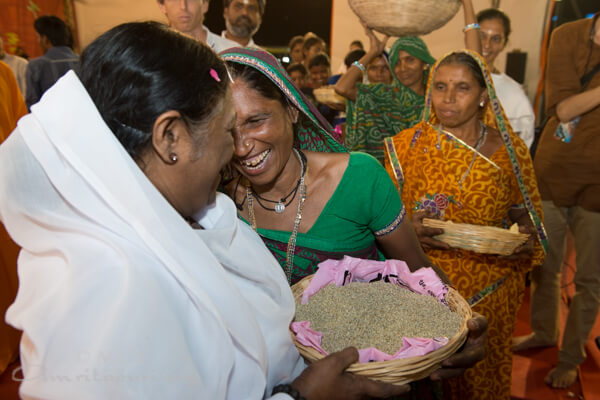 Before the departure to the next city for the program, Amma and the group spent a day in the garden at the Amrita Vidyalayam campus. Once the scorching sun set, Amma came and sat on the grass with everyone, where she distributed dinner prasad, sang bhajans and held a Q & A session. At the end, Amma sang a joyous Gujarati song, which brought almost everyone to their feet and all began to dance in joy.
Amma continues to shower joy and make a celebration wherever she goes… and the journey continues now to the next city – Jaipur.
– Kannadi