21-22 March, Pune – BharataYatra 2016
After a very long ride from Hyderabad, Amma was welcomed by devotees when she reached Pune at 5:30am in the early morning.
Over the next two days, Amma held two days program at the Pune ashram where she was welcomed by Padmashree Vijay Bhatkar, who said, "To see how God walks, how he talks, how he looks, how he blesses, God's attributes, all of it we are able to experience on a physical level when we come to Amma. And so we call Amma "Jagadamba." We are very fortunate to have Amma's darshan and embrace. I consider myself to very fortunate to get an embrace from God Herself."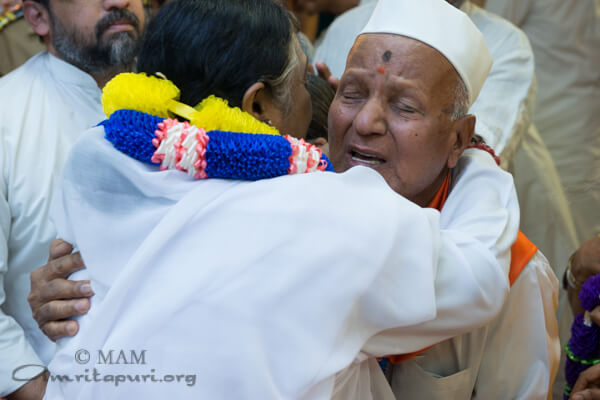 Amma's satsang was translated into Marathi and Amma lead the Manasa Puja and meditation in Hindi. Amma also sang bhajans each day and sat all day until late night giving darshan to everyone.
During darshan, Amrita Vidyalayam students presented different cultural programs. Several well known local performers came to share their talents including, Nanda Kishore who did a Kathak dance, Rajkumar Barsjikar sang bhajans, and Sambaji Shinde presented a Gondel (traditional Maharashrta folk bhajans usually sung only in Devi temples)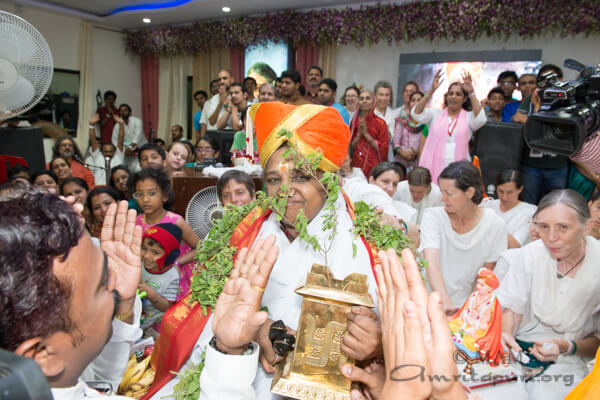 At the end of darshan on the second day, Amma was dressed up as Saint Jnaneswar by a family of devotees. Another family, dressed as Gopis, proceeded to dress up Amma as Sri Krishna and brought curd in mud pot and invited Amma to break the pot and distribute the curd. The festive mood on in the hall reached a climax when the last family came for darshan brought color powders for Holi. Someone smeared some colors on Amma's face, and then she was given water balloons. Amma delighted everyone when she started throwing the balloons at all the devotees crowded around her and everyone burst into laughter as the balloons broke and doused them with colored water. Next Amma started spraying water with a water pistol on all around her.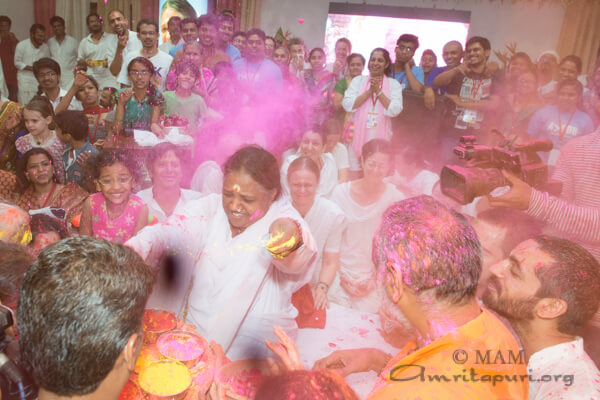 Then finally a tray of powdered colors: pink, yellow, green, red, blue etc was passed to Amma and no sooner did the colors begin to fly all over. All were cheering, laughing and shouting with Amma… all were covered in colors. Amma decided to add more colors to everyone's mind as she ended the night by leading a new rocking Holi bhajan. As the tempo reached its high point, the chant 'Radhe Radhe Radhe' reverberated through the hall… until finally at the crescendo, Amma raised her hand and yelled out, 'Hari Boooool'… the celebration of Holi started and the programs in Pune came to an end.
The next morning Amma and the group proceeded to Mumbai where another set of devotees was waiting to play Holi with her… to be continued…
– Kannadi