26-27 March, Mumbai, Maharashtra – BharataYatra 2016
Amma came to Mumbai a few hours after celebrating Holi in Pune. Since its only a short drive from Pune to Mumbai and technically it was still Holi upon her arrival, Amma fulfilled the wishes of all the Mumbai devotees by playing Holi with them as well. After serving dinner to everyone, Amma sang a rocking new Holi song, 'Holi Ye Ayi Rangoon' that had the whole hall jumping. When the song reached its crescendo, everyone was chanting 'Radhe Radhe Radhe!' and all were swaying and dancing, lost in the spirit of love. Amma took everyone to a different realm. Then when the song ended she began to spray colored water and throw colored powder all around. Devotees were cheering and laughing as they got to play Holi with their krishna, surely making it the most memorable Holi for everyone present. For those traveling with Amma, they were amazed at their good fortune to get to play Holi twice with Amma in the same day!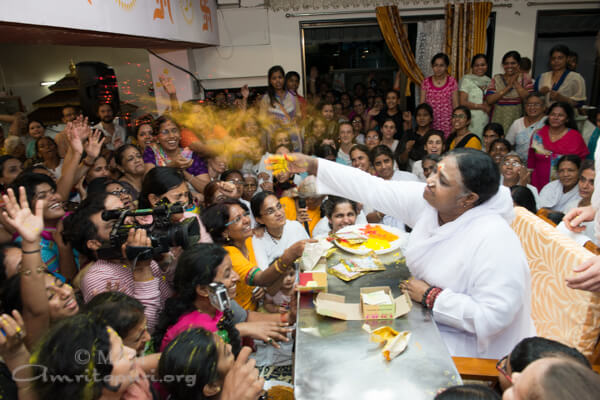 Over the following two days, Amma conducted her normal Brahmastham programs of satsang, bhajans and darshan. During these days, so many dignitaries came to meet Amma while she was in the city, including: The Chief Minister of Maharashtra, Devendra Phadnavis; Minister of heavy industries Anant Geete; Political leader Raj Thackeray several Judges of the Mumbai High Court; Bollywood actress Shriya Saran; Sudha Chandran; Navya Nayar film director Anjali Menon; and Singer Udit Narayan.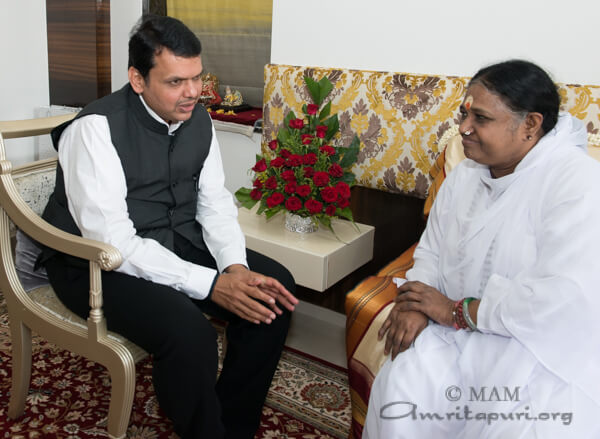 Sudhakar S Sonawane, the Mayor Navi Mumbai welcomed Amma officially to the stage and appreciated her effort in serving humanity. He mentioned that in every field: construction of free houses, education for poor, medical assistance to the needy, disaster relief, etc. Amma's contributions are of a very high standard and that no government organization is able to provide such high standard facilities.
Mandatai Mhatre, MLA Belapur,  requested everyone present at the program to contribute their might and work for few hours each week with Amma in her endeavor of serving needy to make India a great country.
Vidya Thakur, Minister for Women & Child Welfare requested Amma to help to tackle problems in Maharashtra's Vidarbha & Latur regions which were recently affected by severe draught. She also requested Amma to empower women in these regions.
Sanjay Kulkarni, Vice Chancellor of Mumbai University which is a 158 year old institution, told the audience that he was very much impressed with the achievements of Amrita University and its influence in the international arena, even though it is only 13 years old. He expressed his interest to work with Amrita University in specific areas which will help the humanity.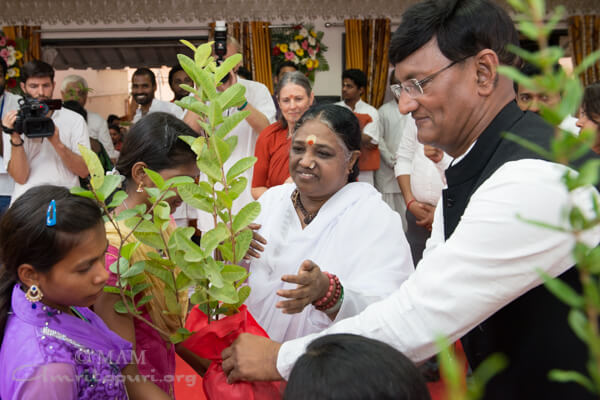 Amma gave 200 tree saplings to the villagers of Ransai which is one of the 101 villages adopted by MAM under AmritaSerVe project. Amma gave three keys of the houses built for the villagers and also distributed sarees to hundreds of villagers from Ransai. Upon receiving these gifts from Amma, they said, "We the villagers of Ransai are so grateful. Earlier there was no one for us. Now we know that we can go to Amma if we face problems. There have been so many changes in our lives after Amma adopted our village. Amma, you want us to become self-reliant. We promise you Amma that we will do our best."
Finally when the last program ended early in the morning, the day after Amma came to the stage for darshan, Amma sang a new Punjabi bhajan. She brought an end to the Mumbai programs, the same way it all began when Amma arrived, with a joyous celebration.
– Kannadi