20-21 Feb, Chennai, Tamil Nadu – Bharata Ystra 2016
After the public program in Puducherry, Amma held a two day Brahmasthanam festival in Chennai. During the two days, Amma gave darshan, sang bhajans and gave satsang. She also led the Manasapuja, instructing all in the local Tamil language.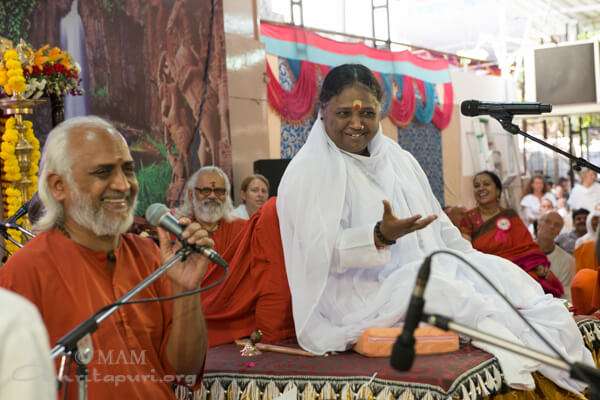 Speaking on the occasion, she said, "Be thankful for what you get and show gratitude. Human beings survive because of thousands upon thousands of aspects of nature that constantly and selflessly serve and support them. We are indebted to many subtle and obvious parts of nature. When this awareness dawns within, it becomes easy to appreciate everything during each breath we take."
Chennai is home to many famous musicians and during Amma's visit a one incredible performance was followed by an equally incredible performance as Amma gave darshan. These were highlighted by Mrudangam maestro Karaikkudi Mani who offered a Jugalbandi accompanied by Bala Sai on Flute, UP Raja on Mandolin and N Guruprasd on Ghatam; famous violinst Kumari Kanyakumari, who offered her tributes with the accompaniment of the superb Mrudamgam by Patri Sateesh Kumar; and Sri Ram, an upcoming young artist, who presented a Carnatic fusion on Keytar.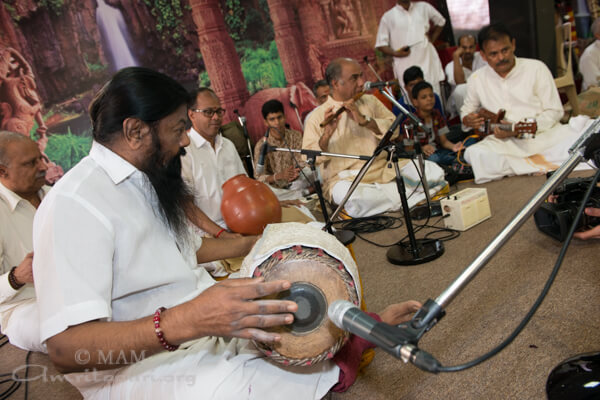 Famous singers like Gayathri Girish, Gayatri Venkataraghavan, Dr R Ganesh, Nityasree Mahadevan and Ananth Vaidyanathan also offered Carnatic vocal performances for Amma during darshan.
In between all the amazing music, there was still time for the local Amrita Vidyalayam students to also present different cultural programs.
At end of darshan on the 2nd day Amma sang two bhajans and even though it was already very late in the night, Amma still was in the mood to spend some more time with the local people. Amma asked one of the ashram kids, whose favorite hobby is to make up stories to trick people when he is bored, to share his latest tale of trickery with everyone. He explained how he raised a question to his mother on the previous bus journey asking her to tell him the long version of how her grandparent's died. His mother thought this was an odd request but he assured her he would explain his intentions after the story was over. When his mother finished he told her his sole intention of asking this was for her to be occupied speaking while he could quickly eat all the bag of chips he didn't want to share with her.
Next Amma asked another young ashram boy to tell a joke to everyone. This boy rambled on and on telling an elaborate joke. His excitement and animation in delivering the joke made it very hard to follow the point of the story…so by the time he finished it was unclear what the actual punchline was. Amma ended the joke for him by telling everyone that the fact that no one actually understood the joke but laughed throughout…was the joke.
The combination of Amma's presence, her love, her laughter, the incredible musical performances helped make the Chennai program a very memorable one.
-Kannadi