The series of competitions organized for Vidyamritam beneficiaries across Kerala culminated in the finals of the elocution competitions in the junior and senior category, held at the Pandal erected in the Engineering College grounds of Amritapuri campus.  Both categories saw eight participants each arguing vociferously on the need to preserve Mother Nature for a healthy future for mankind.  The topics for junior category was " Nature, My Mother", where Neethu T PIllai from Pathanamthitta bagged the first prize while the seniors were given a choice of topics between "Save Nature to Save Mankind" and "World Peace through Human Values". Haritha K K from Malappuram won the first prize in that category by speaking on the former topic.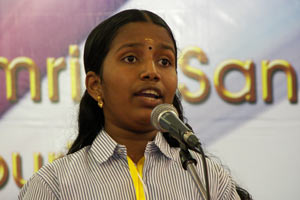 Mr. C. P Nair, former Chief Secretary for the Kerala Government and a judge for the event remarked "All the participants have a very refined accent and intonation." Other judges were M. G Radhakrishnan, Assistant Editor, India Today magazine and P. Rajan, a veteran journalist. Mr. M. G Radhakrishnan advised the students its not enough to use good vocabulary but the need  to imbibe Amma's style of speech. "Amma's speaks on the stage like she is talking to a neighbour. It is so earthy. There is simplicity. Those words come from experience."
Almost all the participants winded up their speech with special thanks to Amma for giving them a forum of this magnitude to express their oratorical skills.  The participants are all from rural villages of Kerala and many are travelling outside their villages for the first time in their lives. Mata Amritanandamayi Math had arranged a series of competitions including Essay Writing Service, Pencil Sketching, Poetry, Painting and Elocution. The finals for all competitions except elocution was conducted in the first phase held on September 6, 2009 which had around 2000 participants from all over Kerala painting, sketching and writing not only in an effort to win prizes but also for an opportunity to showcase their talents.
The prizes were distributed in a special function held on the eve of 26th.