21 September 2009 — Amritapuri
Approximately 10,000 children—ages nine to 16, from all over Kerala—will begin converging on Amritapuri in the evening of 24th September. They are coming to participate in a grand finale of cultural events that have been organized for the beneficiaries of the Mata Amritanandamayi Math's (MAM) Vidyamritam scholarship program.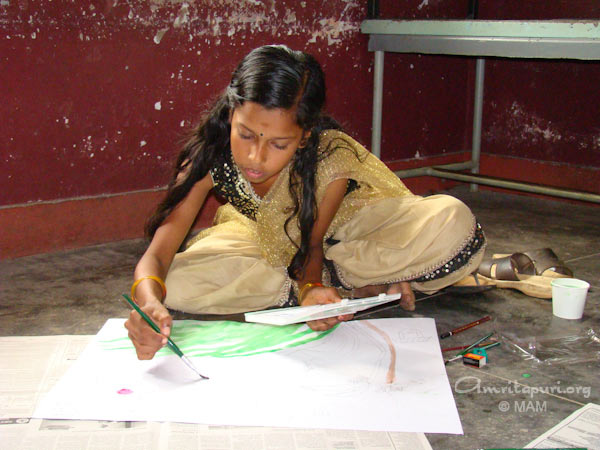 MAM started Vidyamritam in 2007 in order to provide scholarships to children from impoverished agricultural families throughout India. So far, 30,000 children have been enrolled in the program. Another 2,000 will be officially enrolled in Amritapuri on the 26th of September. The new batch of beneficiaries not only includes children from agricultural families, but also children with parents who have HIV/AIDS and orphans.
In fact, Vidyamritam offers more than scholarships. This academic year, beneficiaries have been encouraged to participate in a series of literary and cultural competitions. On September 6, 2009, 3,000 Vidyamritam beneficiaries took part in competitions held at 22 centres throughout Kerala. Events included poetry, elocution, painting and pencil sketching. The competitions were arranged by the volunteers from Amrita Vishwa Vidyapeetham, MAM's deemed university.
For junior students, the theme was "Nature, My Mother" and "Through loving and contented family life, one can achieve peace in society." For senior students, it was "By protecting Nature, we protect mankind" and "World peace can be achieved by developing human values in individuals." Students and their parents were bussed to and from the competition centres by MAM. Meals were provided, as were the necessary materials in order to compete. Each child was also given a pen, a pencil and a box of water colours.
The work of the top 25 or so competitors has been sent to eminent Malayalam writers and artists for selection of prize winners. The semi-finals and final round of elocution are slated for the 25th and 26th of September in Amritapuri. The judges for the finals are also eminent figures in Kerala's literature scene.