Amma deeply concerned about suicide among farmers
15 March 2007 — Mumbai, Maharashtra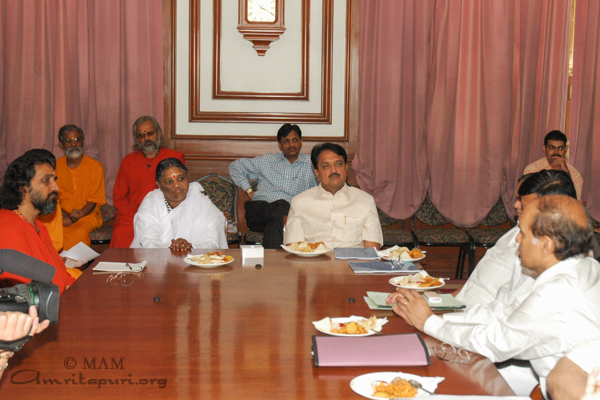 Chief minister of Maharashtra Vilasrao Deshmukh held a high-level meeting with Amma at the Sahyadri government guest house here on Thursday on the issue of suicides by farmers of Vidarbha. After the meeting Amma announced that the Ashram will undertake an Rs. 200-crore [$45.4 million U.S.] project to tackle the problem of suicides by farmers  of Maharashtra, Kerala and other states.
Amma was deeply concerned about the large number of suicides by the cotton growers of Vidarbha. During an hour-long meeting, Chief Minister Deshmukh, chief secretary D.K. Sankaran and other senior officials briefed Amma about the extent of the problem and the steps taken by the government to tackle it. Deshmukh said as a result of a series of steps taken by the state government and the Centre, the problem is now beginning to come under check. "But the problem cannot be solved through economic packages alone. What is needed is social and spiritual interventions so that the farmers realize that suicide is not the way out. In fact, it only further aggravates the problem for the families,'' Amma commented. The CM agreed and sought Amma's assistance in dissuading farmers from taking extreme steps. Amma stressed the need for personal counselling of the vulnerable persons. She recalled the experience of MAM volunteers in dealing with a similar problem in thw Wayanad District of Kerala.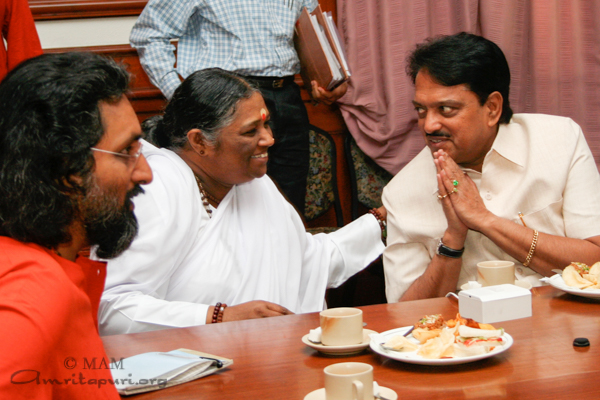 Amma appreciated the efforts made by the Maharashtra Government and said it represented the best efforts taken by any state government to deal with the problem of farmers' suicides. She said even though in comparison to the total number of suicides taking place in the country the suicides by farmers may be less,  in absolute terms the numbers are large enough to warrant expeditious interventions at all levels. The hysteria among farmers needs to be neutralised and associated problems like alchoholism etc. need to be remedied.
Apart from the chief minister and chief secretary, others who attended the meeting included senior cabinet minister Patangrao Kadam; ministers Balasaheb Thorat and Ramraje Njmbalkar;  principal secretaries Sarogi and Pande; divisional commissioner Amravati and Goyal; and some of Amma's disciples and devotees.
—Sree