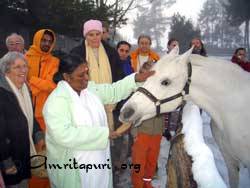 December 1, 2005 — Kirchbrombach, Odenwald, Germany
After two months of touring Europe and America, Amma was finally on her way back to Amritapuri. But as Amma's return trip home included a one-night stop in Germany, she was able to stop at the same horse ranch in Odenwald that she had visited two months earlier. The horse ranch is owned by Amma's devotees and has been regularly used to house Ashram retreats.
The morning after her arrival, Amma emerged from her room just before dawn. The air was -5 degrees Celsius, and everything was covered with snow. Despite the weather, Amma said she wanted to see the horses, just as she had done on her previous visit to the ranch in October.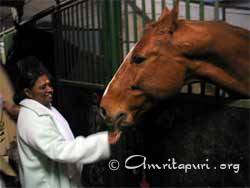 The devotees then led Amma to the stables where she proceeded to visit each and every horse, offering them prasad of carrots and bread. As Amma went from stable to stable, one of Amma's devotees from France noticed that there was an empty stable up ahead. Quickly formulating his plan, he secretly went ahead and closed himself inside the stall. When Amma reached that stable, she was surprised to see not a horse but one of her human children instead. Everyone had a good laugh and Amma fed the devotee the same prasad she was giving the horses.
When the laughter died down, Amma asked all of those around her to observe the discipline of the horses. "See how obedient they are in front of their trainer," Amma said. "A true disciple should have a similar attitude and obedience and always follow the Guru's advice."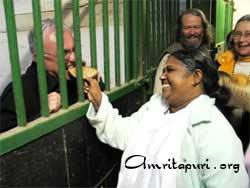 When Amma was finished feeding all the horses, she came outside to find two white horses waiting for her in the corral. The scene was magical: the white horses walking through the white snow and Amma in her white sari moving forward to caress them.
In between feeding the horses, Amma picked up handfuls of snow and playfully examined it in her hands.
Just like everything else, time seemed to have frozen. But eventually the pale winter sun began to rise on the horizon. It was time to go the rest of the way back home to India.
–KaliCharan