1 November 2005, Amritapuri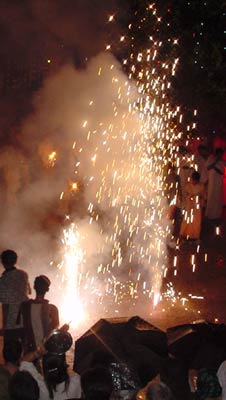 Lights filled the evening skies as Ashramites in Amritapuri celebrated Deepavali.
Adults and small children waved sparklers and lit small oil lamps which decorated the Kalari. Over at the boat jetty, students set of fireworks.
Some students from Amrita University in Amritapuri decided to celebrate Deepavali in a different way: they traveled to Amma's Orphanage in Parippally to spend time with the children there. They had lunch, distributed sweets, and played games. By nightfall, the children and students were dancing and singing together throughout the grounds.
The trip touched many hearts. One student, Deepak, upon returning to Amritapuri, was moved to tears by the experience. "The children are so nice in every aspect. Many of us want to return again to celebrate Deepavali with them. Even if we are placed in a job that is far away after our studies are completed, still we want to come back to Parippally."