06 February 2005, Mysore
Due to Amma's extensive work to relieve the suffering of the tsunami victims, many of the places She was to visit on Her annualmahayatra had to be cancelled. The cultured and devotional people of Mysore were thankful and happy that She graced them with a visit even in these difficult times.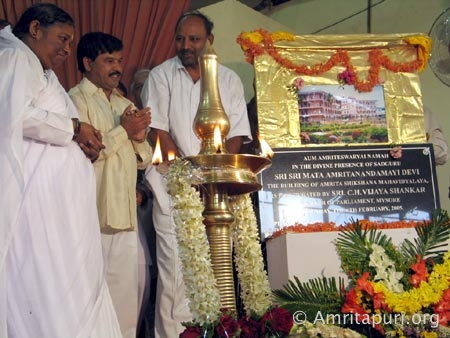 They gave Her a most loving welcome. The programme at Amma's Mysore Ashram was well attended and many dignitaries were present to laud Her example of love and service. Chief Guest was the honourable Justice S.R. Nayak of the High Court of Karnataka who said in his keynote: "Amma represents and reveals Universal Motherhood, infinite love, a reservoir of compassion and service to humankind.Her eternal charter—love and serve—should be the bija-mantra that the sinking boat of humankind should use to lift its troubled and traumatised self from the evils of distrust,hardness, violence and destruction." Judging by the applause, the people of Mysore full-heartedly agreed.
The newest among Amma's educational institutions is the Amrita Shikshana Mahavidyalaya, a teachers training institute. The new college was officially inaugurated by Sri. C.H. Vijayshankar, a sitting member of the Indian Parliament. The impressive new institute is situated just next to the beautiful and serene Mysore Ashram. Amma's unique blend of spirituality, education and science will surely silence everyone who has said that spirituality is mere escapism. According to Amma, true spirituality is the capacity to face life with equanimity and strength of mind. Her ever-expanding mission is pure spiritual force in action to benefit all levels of society.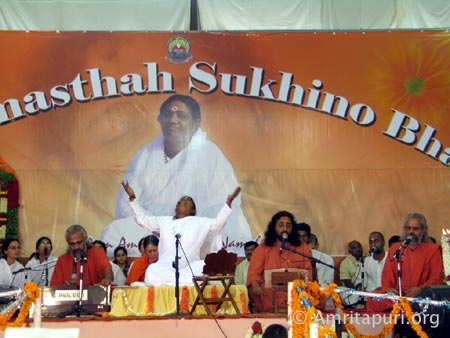 Afterward the inauguration, Amma delighted the Kannada-speaking audience by singing some newly practiced bhajans in that language. Amma's beautiful voice blending with their native tongue held the entire crowd spellbound. As always,Amma's love and grace find numerous ways to flow towards Her darling children.