6 September 2005 – San Ramon, California, USA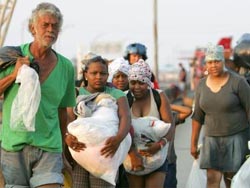 "Pray with your heart. Work with your hands." These were the simple instructions that Amma offered to everyone in the wake of the tsunami. Now, a full eight months later, a similar scene is repeating itself on the other side of the globe. As most of the world watches, stunned by the devastation inflicted by Hurricane Katrina, Amma is again asking us to follow these simple instructions.
Immediately after asking everyone to pray for all those affected by the hurricane, Amma called Brahmachari Dayamrita Chaitanya, her disciple in America, and discussed what the Ashram could do to help. Amma then asked him to go to the affected areas.
Br. Dayamrita is now based at the Amrita Center in Hot Springs, Arkansas and is mobilizing a large group of volunteers to begin the relief work.